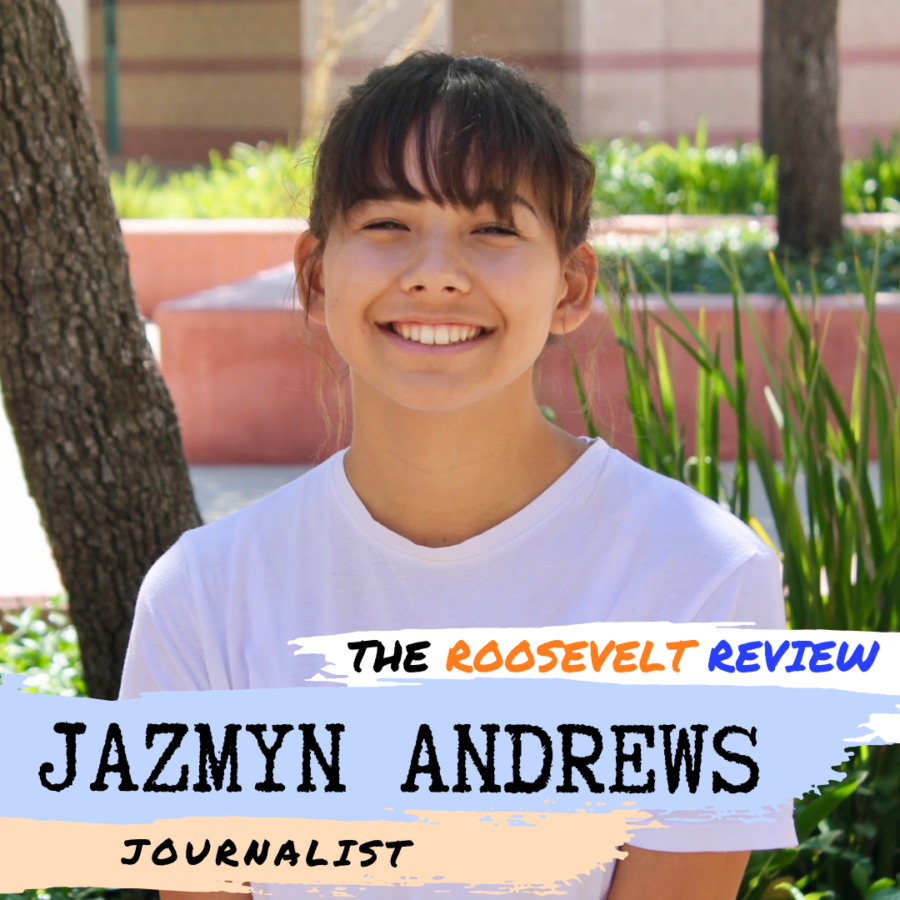 Jazmyn Andrews is a senior at Eleanor Roosevelt High School. She is  seventeen years old, enjoys reading articles and found interest in writing information and was recommended by a friend to join the school newspaper. She is really excited for this year and creating great pieces for our school's newspaper.
Jazmyn enjoys reading books and watching
Friends
on Netflix, on her own free time, but while she is busy she is in the Puente program and enrolled in AP courses, she has been involved with the band program into the Color Guard and loves to perform. She wishes that everyone enjoys her writing and supports the Roosevelt Review.
Jazmyn Andrews, Journalist
May 14, 2020

Netflix's Outer Banks Review

(Story/Media)

May 01, 2020

John Krasinski's Some Good News

(Story/Media)

Apr 24, 2020

People Resulting to Baking in Lockdown

(Story/Media)

Mar 13, 2020

COVID-19 Affecting Schools

(Story/Media)

Mar 08, 2020

TV Series Review: Mindhunter

(Story/Media)

Feb 28, 2020

Boys Varsity Volleyball

(Story/Media)

Feb 21, 2020

Club Spotlight: The Flava

(Story/Media)

Feb 14, 2020

The Little Mermaid Coming to ERHS

(Story/Media)

Feb 07, 2020

The Office Ladies: Podcast Review

(Story/Media)

Jan 31, 2020

Oscar Nominations 2020

(Story)

Jan 24, 2020

ERHS Boys Soccer Varsity

(Story/Media)

Jan 17, 2020

Student Parking Lot Update

(Story/Media)

Dec 13, 2019

Link Crew Lip Sync Auditions

(Story/Media)

Dec 06, 2019

Club Lunchtime Activites

(Story/Media)

Nov 23, 2019

Sports Review: Marching Band and Color Guard

(Story/Media)

Nov 15, 2019

Senior Quotes Coming to ERHS

(Story)

Nov 08, 2019

Winter Formal Theme Reveal: A Starlit Night

(Story)

Nov 03, 2019

Politician Spotlight: Elizabeth Warren

(Story)

Oct 25, 2019

Artist Spotlight: Rex Orange County

(Story)

Oct 19, 2019

Anti-Bullying Campaign

(Story)

Oct 13, 2019

Thefts in Eastvale

(Story)

Oct 04, 2019

The Crisis of Our Environment

(Story/Media)

Sep 26, 2019

London Fashion Week

(Story/Media)

Sep 20, 2019

Girl's Varsity Golf Qualifies for CIF

(Story)

Sep 13, 2019
Sep 06, 2019

Hurricane Dorian Ravages the East Coast

(Story)