The Little Mermaid Coming to ERHS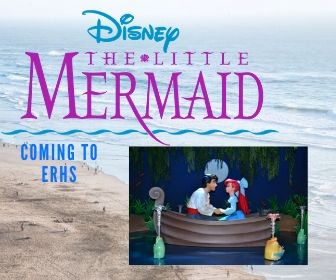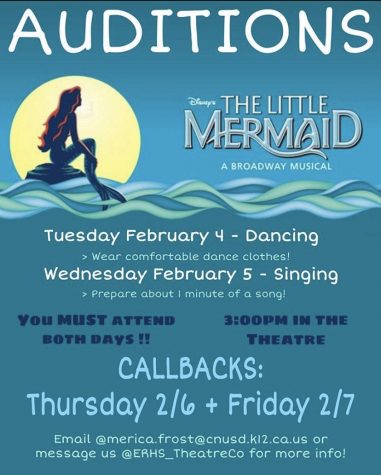 Theatre productions are held through the school, but this Spring, Disney is coming to ERHS. Auditions were held in the theater on Tuesday, February 4, and Wednesday, February 5 starting at 3 p.m. On Tuesday, the performers auditioning, started with dancing auditions and on Wednesday was demoing their singing abilities. Callbacks were Thursday, February 6, and Friday, February 7, and the purpose of callbacks are for people who auditioned, second invitation auditions to really determine the permanent roles for this musical.
Merica Frost, the theater teacher here at ERHS, explains how the plays and musicals that are chosen to be in production, "Some shows I've always wanted to do, I've done shows before a lot of the students wanted to do by taking their requests." The cast includes Victoria Villamil as Ariel, Christian Sanchez as Prince Eric, Nadia Saliva as Ursula and Caleb Kou as King Triton, with many more students! Frost comments on the new cast, "I love them, and this is one of the biggest cast than before."
The cast list has already been posted and all the students are excited to dance and sing underwater with the rest of the theatre members. Madison Swanson, a senior who was given the role of Ensemble describes her audition process, "The audition process went really well, and I'm super excited to start rehearsing and getting to know everyone involved in the show." Since The Little Mermaid is such a large wide known movie and musical Swanson addresses her opinion on the new show, "I love the Little Mermaid as I've grown up watching it and I'm super excited to be in it, it's like a childhood dream."
Come support he shows are premiering on April 24, 25, and May 1 and 2, but for the new members' practices begin Wednesday, February 19th, purchase your tickets at https://erhs.booktix.com/
If any further questions you can e-mail Mrs.Frost @[email protected] or can message the official theater Instagram @erhs_theatreco!