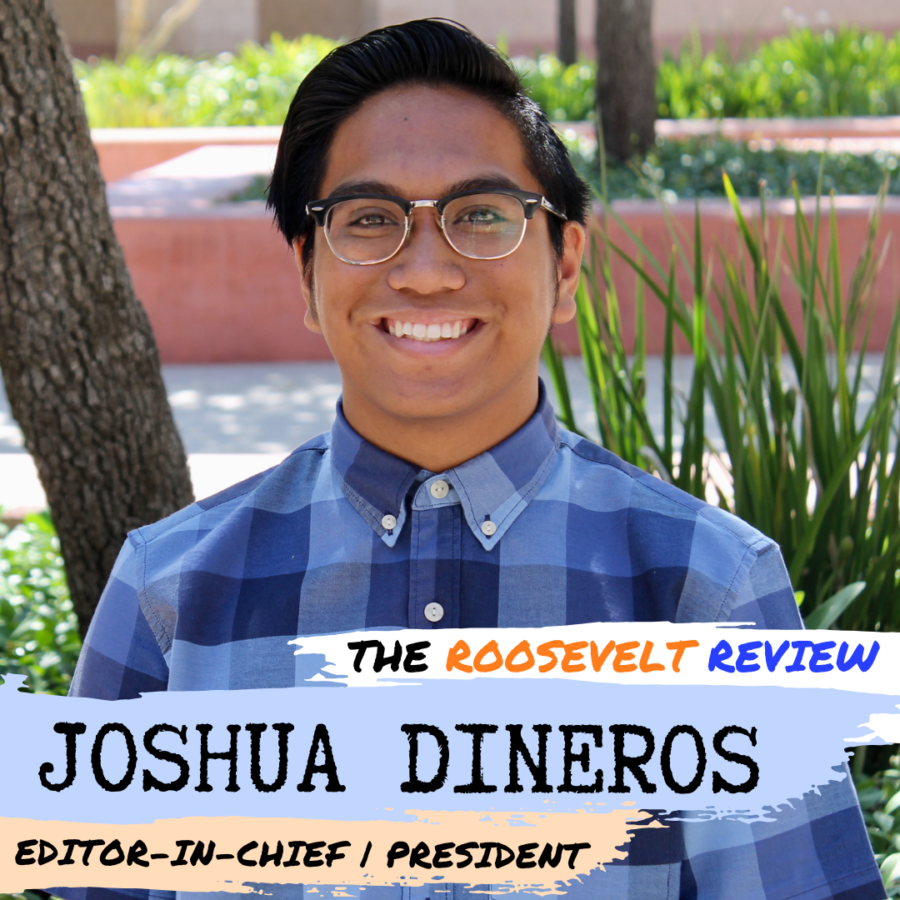 Joshua Dineros is a returning member of the ERHS Newspaper, 
The Roosevelt Review
. He is currently a senior and plans to attend university majoring in political science or public administration, while minoring in communications or journalism. He enjoys getting involved in his community, whether it be at school or in his surrounding cities. The best part of becoming involved, he believes, is the joys of having a direct impact on the people he interacts with.
At Roosevelt, other than being the editor-in-chief and the president of the newspaper, he is the president of the Gender-Sexuality Alliance (GSA), the Division Lead News Editor for Key Club D15E, an intern for the City of Corona, a youth leader at Saint Oscar Romero Catholic Community, and a member of many more programs.
You can learn more about him on Instagram/Twitter by following @joshuaasamuel or contacting him directly at
[email protected]
Joshua Dineros, Editor-in-chief
Apr 09, 2020

Christopher Raahauge Visits ERHS

(Media)

Mar 12, 2020

FBLA Press Release: February 2020

(Story)

Feb 11, 2020

CNUSD National History Day 2020

(Story/Media)

Oct 11, 2019

Assemblymember Sabrina Cervantes Visits ERHS

(Story/Media)

Sep 25, 2019

Homecoming Nominations

(Media)

Sep 20, 2019

The Eastvale Edition

(Media)

Sep 07, 2019

Class of 2020 Won't Get Senior Quotes

(Story/Media)

Sep 07, 2019

Hoco Horror Nights

(Media)

Jul 29, 2019

Eastvale State of the City

(Story)

May 17, 2019

ERHS Powder Puff

(Story/Media)

May 03, 2019

The Second Annual "Seeds" Showcase

(Story/Media)

Apr 26, 2019

Roosey Report: Week 4/23-4/29

(Media)

Apr 26, 2019

Campaigning for the Future of ASB

(Story/Media)

Apr 19, 2019

Discovering Culture with UNITY

(Story/Media)

Apr 12, 2019

ERHS Physics Boat Races

(Story/Media)

Mar 29, 2019

eSTEM Building Update

(Story/Media)

Mar 22, 2019

Riverside County History Day

(Story/Media)

Mar 15, 2019

Teachers Taste Pi Day

(Story/Media)

Mar 08, 2019

Teen Dating Violence Awareness Day

(Story/Media)

Mar 01, 2019

"A Night in Verona": ERHS Prom 2019

(Story/Media)

Feb 24, 2019

Out on the Town: Pizza Press

(Story/Media)

Feb 22, 2019

Ice Cup Challenge

(Story/Media)

Feb 15, 2019
Feb 15, 2019

February Staff Spotlight: Heidi Oberdank

(Story/Media)

Feb 08, 2019

CNUSD: National History Day Competition

(Story/Media)

Feb 01, 2019

Out on the Town: Tea+

(Story/Media)

Jan 25, 2019

Eastvale: Newly Released Questionnaire Results

(Story/Media)

Jan 18, 2019

Student Spotlight: Aydan Cortez

(Story/Media)

Jan 18, 2019

ERHS Boys Varsity Basketball beats Corona

(Story)

Dec 14, 2018

ERHS Students Win at 2018 CAAP Stand & Deliver Showcase

(Story/Media)

Dec 10, 2018

Out on the Town: Scramblers Cafe

(Story/Media)

Dec 01, 2018

AVID's Got Talent Show

(Story/Media)

Nov 18, 2018

Out on the Town: Little Buddha Thai Kitchen

(Story/Media)

Nov 09, 2018

ERHS Winter Formal Theme Reveal

(Media)

Nov 09, 2018

Player Spotlight: Michael Sahagun

(Story/Media)

Nov 02, 2018

ERHS Boys Water Polo: CIF Playoffs

(Story/Media)

Oct 26, 2018

ERHS Bathroom Beautification

(Story/Media)

Oct 24, 2018

ERHS Band and Color Guard: Football Edition

(Story/Media)

Oct 19, 2018

Out on the Town: Pita Street

(Story/Media)

Oct 13, 2018

October Student Spotlight: Sanika Subhedar

(Story/Media)

Oct 13, 2018

Byars Meets World: Hsi Lai Temple

(Story/Media)

Oct 05, 2018

ERHS College Fair

(Story/Media)

Oct 05, 2018

October Staff Spotlight: Michael Stanton

(Story/Media)

Sep 28, 2018

Roosevelt Reads: Banned Books Week

(Story/Media)

Sep 21, 2018

Byars Meets World: King Tut Exhibit

(Story)

Sep 14, 2018
Sep 14, 2018

Team Spotlight: ERHS Boys Water Polo

(Story)

Sep 07, 2018

Upcoming ERHS Musical: Willy Wonka Jr.

(Story)

Aug 31, 2018

Disneyland vs Six Flags: The Ultimate Senior Showdown

(Story)