ERHS Soccer Season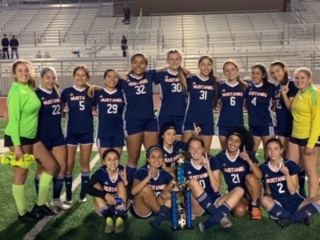 Hang on for a minute...we're trying to find some more stories you might like.
As our fall sports slowly come to an end, Mustangs it's time to get ready for our winter sports! Some of the sports you might see getting ready for this upcoming season are girls and boys soccer, basketball, and wrestling. Girls soccer last year during the 2018-2019 season had a record of 14-9-6 with a record in league of 4-3-2. The team made it past their first round of CIF playoffs beating Pacifica High School, but fell short of moving to the third round, losing to Long Beach Poly. Senior Nelly Diaz and four year varsity member says, "I am looking forward to making the playoffs and going as far as we can because it is my last year so I really want to make it memorable." I asked Diaz what the team is doing to prepare for the season, when the season will officially start, and what she is looking forward to the most and she responded, "Pre-season officially starts after Thanksgiving break. We've started practicing after school almost everyday and even before school on Wednesdays, so no late start for us. I am just looking forward to making more memories with my favorite girls."
To add to the start of girls soccer season, boys soccer also is beginning, Junior Erick Pflucker says in order to prepare for the season, " We are training together, trying to create more of a bond, and trying to get our mental state ready for this season." When I asked him, what he is most excited for and when their season officially starts, he responded, "Playing with my fellow teammates and just trying to make the most out of the season. We have our first game on December 3rd, it's an away game against Elsinore."
Good luck to our Boys and Girls soccer teams as they enter their season. Come back to the Roosevelt Review for more updates on winter sports this season!