The Badminton Club on Eleanor Roosevelt High School's campus was established in 2014, giving opportunities for people from all walks of life to play badminton and meet new people. The club itself provides a safe place for students to play and relax. In this fine and fun club, anyone is welcome to hop in and hang out!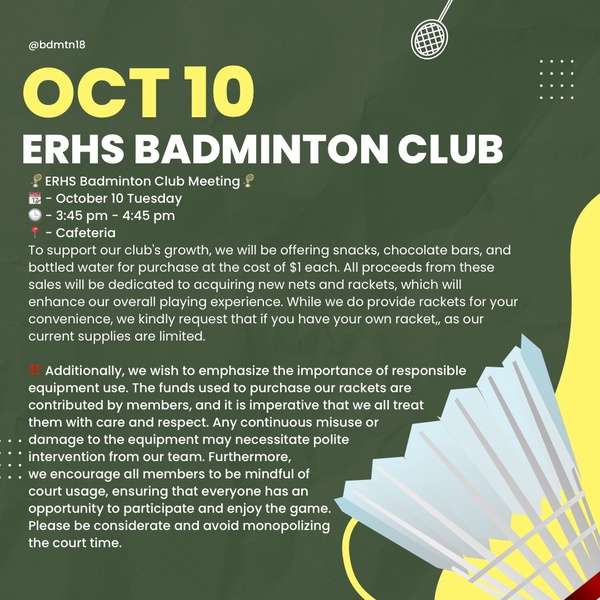 Badminton, unfortunately, has yet to be recognized as an official sport within ERHS. The club wishes for the sport to be officially recognized so they can pursue greater endeavors, one such thing the club is looking to pursue is the possibility of playing in tournaments and smaller-scaled competitions. However, due to their current lack of funding, nothing has been set in stone as of the time this is being written.
All of the club's supplies and resources have been student-funded thus far. The club often sells bottled water, chocolate bars, and other snacks for only $1. All the proceeds from said purchases will go to acquiring new rackets, nets, and other such equipment.
Venessa Chen, a senior and the president of the Badminton Club, stated: "I have been interested in the club since freshman year. I then became a secretary and last year I was the vice president."
Story continues below advertisement
"Playing badminton is a fun activity, though communication skills are important", Chen said with encouragement, "Just be open to meeting new people."
The club's ambiance is inviting and friendly, everyone is super involved with each other. Some games on the court get intense and heated among players.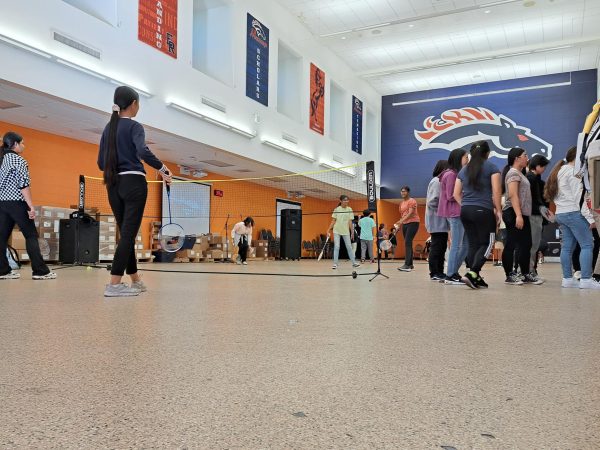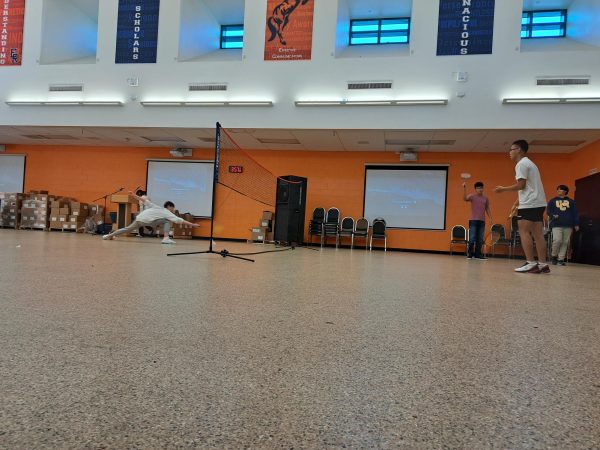 Camila Ismail, a junior at Eleanor Roosevelt High School said, "It's such a graceful sport," complementing the beauty of this activity.
Recounting her experience with this sport, she said "The first time I played badminton was during PE (physical education class) last year. It was really fun!" Then she continues: "I was super excited to join the club and dragged my friends along. Here, I met a lot of people. Unfortunately, there aren't a lot of people at our school who know about this club. I wish there were more flyers around."
Another junior at ERHS, Haley Zelaya shared a similar sentiment regarding the sport claiming, "I have been playing badminton ever since I was young, and I do find it very fun".
Zelaya continues commenting on the club's overall environment "The club is really good, its very chill, a great place to hang out and sweat".
Jadee Wang, a freshman at ERHS claims: "I like badminton because I can play with friends. Although, I wish there were more nets."
In education-based athletics, high school athletic administrators should be providing students with opportunities to discover various sports. This means offering students with diverse sports selections that will accommodate their interests. Adding badminton as an official sports program provides a chance for students to try out something new, and dive deeper into discovering their passion outside of PE. Similar to other sports, badminton focuses on teamwork and communication. Additionally, it provides mental health benefits as badminton challenges one to test their limits and set challenges boosting self-confidence as well as staying motivated. With a regular period of practice, players are able to train their agility and coordination.
This speedy sport is deemed one of the world's most energy-intensive sports for its' long intensive rally. Players can create new memories from their experiences (more information here). Should Eleanor Roosevelt High School finally recognize badminton as an official sports program, or should it remain as a club open to all without the anxiety of try-outs?