Sports Spotlight: Kenna Spear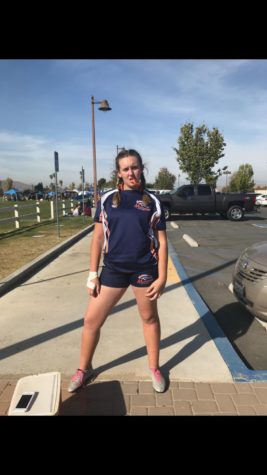 Amid the many athletes at Eleanor Roosevelt High School, the Roosevelt Review recognizes Kenna Spear for the September Sports Spotlight. Kenna Spear is currently a senior at ERHS, and is in both rugby and football breaking gender stereotypes and creating her own narrative.
Kenna is most known for her spot on the varsity football team here at ERHS. However, she states, "I played rugby before I started playing football!" Spear got introduced to rugby freshman year by some of her friends. This will be her forth year playing rugby. Her first game was definitely a catalyst moment in her rugby career. She states, " I was amazed by how aggressive it was." Spear is drawn to rugby stating how "it is empowering!"as well as "it makes me feel strong and I love it!"
Spear loves the family aspect of rugby, she states "it is unlike any other sport." She also states that before their games, as a team, they huddle together and "get each other hype." As a team they get together to push out any nerves and speak their goals into existence. Aside from the team, Spear takes time to pray. She prays before games for the safety and success of her team.
The family aspect isn't the only part about rugby that she enjoys. She also loves the feeling that she gets from tackling and states that tackling gives off a huge adrenaline rush and that the feeling is unlike any other. Even the feelings she gets from simply stepping on the field before every game is euphoric.
As a community many take pride in Kenna Spear. She is a role model for young kids and adults alike. Her advice for people who want to join rugby is that rugby is the perfect place to step out of your comfort zone. Rugby, as she states, is one of the most welcoming sports. Spear is a motivator and an icon for all, she is continuously making her own narrative.