What's the Deal with Poke?
A dive into the food phenomenon of Poke
On my quest to find a trend to review amongst the vast sea of things in our modern culture, I was overwhelmed with the large range of possibilities open for me to report on. Alas, after spending an excessive amount of time on Google I decided on a topic that was right in front of my eyes the whole time.
Hailing from the Pacific islands of Hawaii, a dupe for the ever so famous sushi, poke is here to take the crown. This trend has grown in popularity rapidly in the United States mainland. This exotic dish has spread over social media such as Instagram like wildfire with inescapable pictures on my discover page. Having never tried this LA-beloved food, my Southern Californian teenage instincts begged me to try it and so I embarked on my journey to find a spot to satisfy the rabid millennial inside. It was not a hard task to find a poke restaurant nearby with a relatively newly opened shop in Eastvale.
Eyes set on the prize, I made my way to Poke Delight on Limonite and Sumner right after school on Wednesday. Of course, I wouldn't make this trek into unfamiliar territory alone and I met my friends Brie Leber and Anissa Vallejo at the location. When I stepped into the restaurant I was greeted with refreshing air conditioning and the pleasant smell of food. The anticipated smell of a grocery seafood department was nowhere to be seen. Having never had a particular affinity for fish I was pleasantly surprised by what was to come. My eyes immediately went to the large array of options in front of me. The smiling employee welcomed me and was very patient with me as I took in numerous combinations that laid out in front of me. After some wary decision making and the anxiety of making the employee wait too long, I ordered a basic two-scoop bowl. I had white rice with ahi tuna and salmon mixed with spicy mayo and green onions and I topped it all off with seaweed salad, imitation crab, edamame and sesame seeds.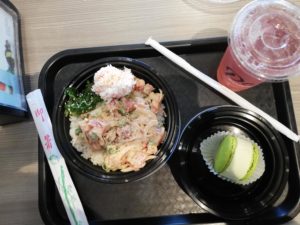 To accompany my bowl I also got one of Poke Delight's green tea gelato macarons and a drink. Brandishing my chopsticks I dug into the long-awaited delicacy in front of me. To my surprise I liked it. The unique flavors and texture worked together in a harmonious blend of flavor. With no one flavor dominating the others, it was like ASMR for my mouth. My fish aversion was taken aback and I found a new favorite food as I finally understood the craze for a bowl of raw seafood. I then moved onto dessert. The green tea flavored macaron gelato was refreshing on a hot summer day. It was like a fancier version of an ice cream sandwich although it was a little too sweet for my taste. Stomach full and LA kid suppressed, I was curious about other people's experiences with my new fascination.
The first place, or rather, the first person I went to for answers was the manager of Poke Delight, Freddy Salazar. When I asked him why he thinks poke became so popular he responded that "The idea is for those people who don't want to go to a sushi bar and spend a whole lot of money…and who doesn't love a build your own bowl." I then wanted to know what he thought separated sushi and poke besides the obvious preparation of each. He elaborated that "It's sushi plus everything else."  I thanked him for his time and great service and I was on my way. With this compelling evidence in hand, I wanted another perspective on this continually growing trend.
In this a brief moment of thought I realized 'Who would be better to interview about poke than an avid consumer of poke?' and I was on the hunt for a poke fan. This next search was short-lived as I didn't have to travel far to find one. Eleanor Roosevelt student, Catherine Suico, was willing to give me insight into the mind of poke consumer. She said, "I feel like Asian culture is getting more popular nowadays…" and pointed out that it is thanks in part to social media. With technology increasing its ubiquity in our daily lives it isn't hard to believe that an everyday island meal would blow up in a media-driven area such as Southern California.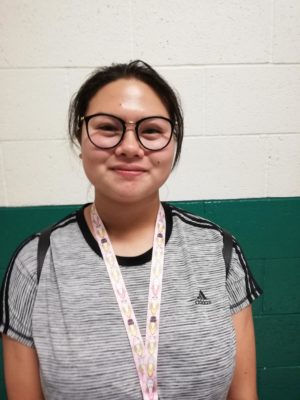 To the people who are unfamiliar with poke: it is more than just a shallow trending hashtag on Instagram, it is a culturally rich dish that is genuinely pleasing. With a whole world of possibilities, poke can be overwhelming but Catherine had a bowl suggestion for newcomers to lessen the daunting task of choosing a bowl. She said, " I like brown rice with Hawaiian salmon with shrimp and onions and garlic, carrots, imitation crab, edamame peas, pineapple, seaweed and …the house sauce they usually have."
When all was done I was left interested in the power of our society and how it can take a small thing and make it widespread. Satisfied with what I found, I concluded my delve into the world of poke and look forward to where the next trend takes me.