Contrary to what the weather might make it seem, summer is coming to an end. Leaves will start to fall from trees, the weather will become cooler, and cozy nights will soon be spent by the fireplace. With the hustle and bustle of the holiday season, people will be scrambling to find tasty recipes to make for their various fall gatherings; whether it be Halloween parties, fall movie nights with friends, or even a typical Tuesday in autumn. I am here to make your fall baking plans run a little smoother by recommending and testing out fall recipes I think you should bake this autumn!
My first sweet that I recommend you try this autumn is pumpkin s'mores cookies. The name is self-explanatory. This treat is essentially a s'more but with Pillsbury pumpkin cookie dough placed on top instead of an additional graham cracker.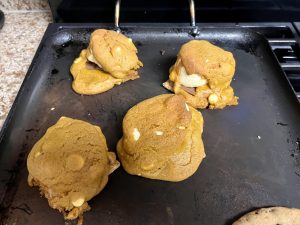 For this recipe you will need:
-chocolate bars
Story continues below advertisement
-regular-sized marshmallows
-graham crackers
-Pillsbury pumpkin cookie dough
The instructions for this recipe are simple. First, preheat your oven to 350 degrees Fahrenheit. Next, grab a baking sheet and cover it with parchment paper. Then, place your graham cracker on the baking sheet, the chocolate bar on top of the graham cracker, and the marshmallow on top of the chocolate bar (tip: not all of the chocolate bar will fit so feel free to cut it into pieces!) Lastly, cover the top of the s'more-like creation with pumpkin cookie dough and place it in the oven for about 10 to 13 minutes. Make sure to check up on your treats every few minutes to make sure that the marshmallow isn't overflowing or spilling! Once it has been around 10 to 13 minutes, carefully take your baking sheet out of the oven and let it cool down for a few minutes. Once your cookies have cooled down, take a big bite and enjoy your tasty treat!
The second treat I recommend you try are pumpkin spice cookie cakes. This fall treat is a fluffy, moist pumpkin spice delight that is a cross between a cookie and cake.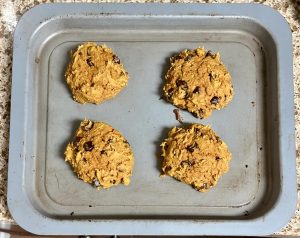 For this tasty treat you will need:
-one single can of pumpkin puree
-one box of spice cake mix
-1/2 a cup (or more/less depending on your preference) of chocolate chips
The instructions for this recipe are as follows: First, preheat your oven to 350 degrees Fahrenheit. Next, grab a large bowl and place all your ingredients into the bowl. Once your ingredients have been placed in the bowl, grab a spatula and stir the ingredients all together. Then, get a spoon or ice cream scooper and place circular scoops of your mixture onto a baking sheet covered in parchment paper. Afterward, you are going to want to place your treat in the oven for somewhere between 13 to 15 minutes. After 13-15 minutes have passed take your cookie cakes out of the oven and let them cool down for a little bit. Once they have cooled down, feel free to eat as many or as little pumpkin spice cookie cakes as your heart desires.
My final recommendation for you to try is Halloween double-decker cookies. This type of cookie is a combination of two different types of cookies, sugar cookies and chocolate chip cookies! This cookie consists of a Pillsbury Halloween-themed sugar cookie within a chocolate chip cookie.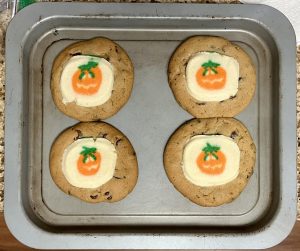 The instructions appear as follows:
-Pillsbury chocolate chip cookie dough (or homemade cookie dough)
-Pillsbury pumpkin shape sugar cookie dough
To make this treat you are first going to want to preheat your oven to 350 degrees Fahrenheit. Next, grab a sheet of parchment paper and place it on a baking sheet. Then, simply place your chocolate chip cookie dough squares on the parchment paper and place the Pillsbury pumpkin-shaped sugar cookie dough directly on top of each square of chocolate chip cookie dough. Place your cookies in the oven for 10 to 15 minutes. Once 10-15 minutes have passed, take your cookies out of the oven, admire their fall designs, and feel free to enjoy them!
Prior to recommending these treats, I decided to bake them and try them myself. I loved the pumpkin s'mores cookies. They reminded me of chilly autumn nights by the fireplace. They are perfect for those with a sweet tooth! I was hesitant about the pumpkin spice cookie cakes at first just because I'm not a huge fan of pumpkin, but they were actually so delicious! The Halloween double-decker cookies were my favorite though just because they are sweet but not overly sweet. They also had chocolate chips, which of course I loved! I then decided to offer these cookies to fellow Roosevelt students to see what they had to say about them.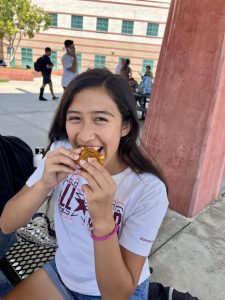 Veronica Cobian, junior class council president at Eleanor Roosevelt High School, was the first to try out all of these savory autumn sweets that I had made.
"The s'mores one is my favorite just because it's very unique and I think anyone who would try it would like it and be surprised, like pleasantly surprised. I liked them all," Cobian said. "The s'mores one is really good. It's really cute, like, I would take this camping. First of all, it just looks really cool and then there's a lot of interesting flavors paired together and they actually go really well together."
Natalia Garcia, a junior at Eleanor Roosevelt High School, particularly took a liking toward the Halloween Double Decker Cookie.
"I loved it! This one was my favorite because it looked festive and it was delicious," Garcia said.