Get Your Info: Career Center Presentations
No one can say with absolute certainty what their path will be after high school. Luckily for us, the College and Career Center holds events so you can understand your options.
Nathan Cunanan, a sophomore enrolled in our school's eSTEM program speaks on what he knows about schools.
"I found a passion that I can actually pursue into college," Cunanan says. "I have zero clue on any opportunities or programs that colleges provide.
I know about majors and minors and that's the extent of my knowledge."
On a nearly weekly basis, presentations are held by various colleges and universities, discussing their admission process, programs, campus-life, and much more.
Teresa Roeder works with Roosevelt's counseling department to bring students such opportunities.
These presentations are a way for juniors and seniors to begin thinking about schools they want to attend, Roeder says. Sometimes they go to a presentation thinking a school is a good fit but realize it isn't, and sometimes, it's the other way around.
Even for an underclassman, it's a way to get a head start.
Sophomore Rei Ku shares his worries around choosing a path to follow after high school.
"My problem lies in what I want to commit to. Art? Service? Business?" Ku says. "I just don't know."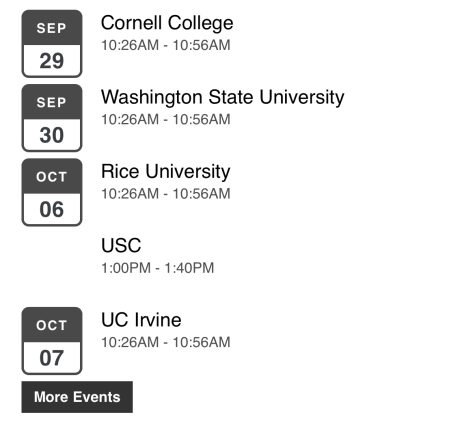 On the ERHS website, you can scroll down to find a calendar on the left side of the screen. This lists the upcoming events being held at the College and Career Center.
Presentations are often held during office hours, before school, or lunch, and scheduled weeks in advance, giving you the chance to plan for your attendance.
In the event you are unable to make it to a presentation, any student is welcome to drop by the Career Center and ask for any information or flyers left by the presenting school.
Join your class' Remind to stay updated on upcoming events and presentations (text group code to 81010):
Class of 2023 code: @c23erhs
Class of 2024 code: @c24erhs
Class of 2025 code: @c25erhs
Class of 2026 code: @c26erhs
Along with the many presentations, the College and Career center also offers help with financial aid, scholarships, FAFSA (Free Application for Federal Student Aid), and information for your career of interest.
Students are welcome to visit the Career Center for more information.