The Antonio Brown Saga Continues
" The weak can forgive. Forgiveness is the attribute of the strong." Mahatma Gandhi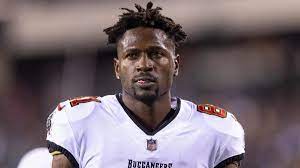 Antonio Brown, at a particular time was regarded as one of if not the very best wide receivers in the entire NFL. I have referenced his previous struggles in my previous articles and believe me he has struggled. From getting bounced around from team to team and burning what could be his final bridge in professional football. Week 17 the Bucs are in New York playing against the Jets who are a significantly worse football team than the defending Super Bowl Champs. The Jets had Tampa on the ropes for a majority of the game, but with some late game heroics by the Bucs QB, the seven time Champion Tom Brady; Tampa was able to escape Metlife Stadium with a win. I could write a full article on how terrible Tampa Bay played and how surprisingly well the Jets played up until the fourth quarter, but Antonio Brown had to go and take the attention off of his former team.
As I have discussed in a different article, Antonio Brown was already in hot water for faking his vaccination status, which I would like to add is illegal. He was also out before that because he had an injured ankle, so including the suspensions he missed 8 games. Brown came back to the team to take on the Carolina Panthers where he had 10 receptions for 101 yards and in that game his ankle appeared to be okay. We fast forward a week later where he isn't getting as many receptions where he only had three for 26 yards, his ankle became an issue.
He goes off the field to sit on the bench, now there are many theories that are going around that he complained to Tom Brady about not getting his targets which seems like something that Antonio Brown would do.  Arians said that Brown didn't inquire with any trainer or doctor on the Tampa Staff about the injury to the ankle, so in turn he didn't know. So Coach Arians asks Brown why he isn't in the game and according to Bruce Arians, AB said, "I ain't playing…I ain't getting the ball." Arians then preceded to say, "You're done. Get the 'eff" out of here." And Antonio Brown did take him up on that while he also took off all of his gear while fellow wide-receiver Mike Evans was trying to calm him down. He continued to remove his pads throwing his gloves in the stands while parading in the back of the endzone while the game was still going.
Brown released a statement, which was recorded by writer Vincent Frank, "Despite the pain, I suited up, the staff injected me with what I know now was a powerful and sometimes dangerous painkiller that the NFLPA has warned against using, and I gave it all for my team."
Sources have been saying that this injury will require surgery. I get it, it can be frustrating when you are a receiver and you are not getting your receptions and I am not questioning his injury, the part that gets me is the way he conducted himself while exiting the field, you just don't do that. Do I think a team desperate enough is going to pick AB up, possibly, but his time in Tampa is over. And how are you going to turn on the person who gave you a job with the Bucs to begin with, that person being Tom Brady.  Saying that Brady can't do anything by himself and saying, "We're all dependent on somebody else to do the job." This whole situation was just a disaster and Antonio Brown has himself to blame.