ERHS Pep Rally 2019
Hang on for a minute...we're trying to find some more stories you might like.
Hey Mustangs! This past Monday, we had our last pep rally of the year and sadly for seniors, the last pep rally of High School. This weeks pep rally was in accordance with prom which is Saturday, April 12th and themed "A Night in Verona". Looking forward to seeing you all there! As for now, let's get into the amazing performances that made our last pep rally memorable.
There were many talented acts in this past pep rally, ranging from performances from theatre, Polynesian Club, Step Team, Color guard, Song Team and Cheer.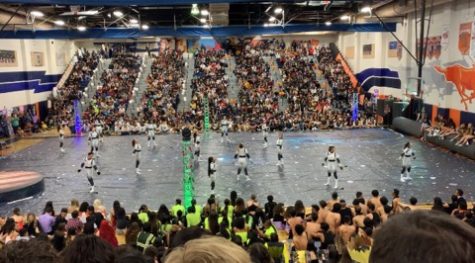 Roosevelt's theatre program put on a wonderful performance filled with singing and dancing to musical theatre numbers and many talented individuals giving their very best performance the entire time. Furthermore, Roosevelt's Polynesian club also put on a fantastic performance that was long awaited by the majority of students as Poly is a very popular, talented club. Also, great performances were put on by Roosevelt's step and song team filled with loud cheers from the crowd, as they are also student favorites. Lastly, coordinators incorporated a fun game of hot potato to get the crowd awake and ready for the series of performances ahead filled with competition, as the goal was to not have the object (a prom crown) be in your hands when the music ended.
Our last pep rally of the year was very memorable and filled with great, talented performances, along with competition and reciting our Alma Mater, which for seniors, was very bittersweet.
About the Writer
Megan LeBlanc, Writer
My name is Megan LeBlanc, and some things that I enjoy doing in my free time include: singing and acting, as I was involved in theatre for the majority...