Out on the Town: Tea+
A student food column. We're hungry, on a budget! Our review brings you GOOD food at an even BETTER price!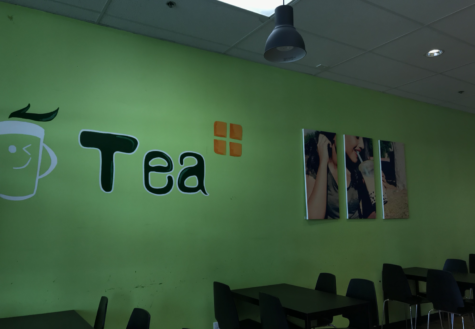 Out on the Town is a monthly critical food column for casual, sit down restaurants that caters to the needs of teenagers through low costs, fun environments, and good food.
This month's restaurant review for Out on the Town is Tea Plus located at 7084 Archibald Ave #103, Eastvale, CA 92880 alongside the Albertson's grocery store in the Corona Valley Marketplace. Tea Plus is a boba house and restaurant located in Eastvale, California. The establishment includes a variety of boba teas and an array of small food options to choose from.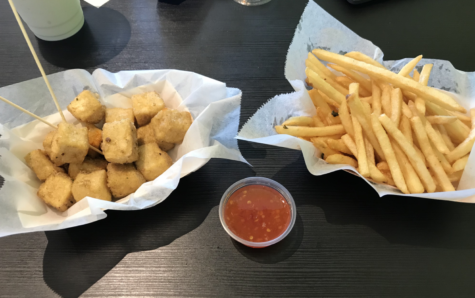 Joshua & Noelle's Rundown.
VI. Our Order
Joshua's order consisted of the popcorn chicken, which came alongside fried rice and corn with a small garner salad. Pairing with this entree was a small taro smoothie. Noelle's order consisted of mild, fried tofu, garlic salt fries paired with a large almond smoothie. The tofu came with Neither of our drinks came with boba.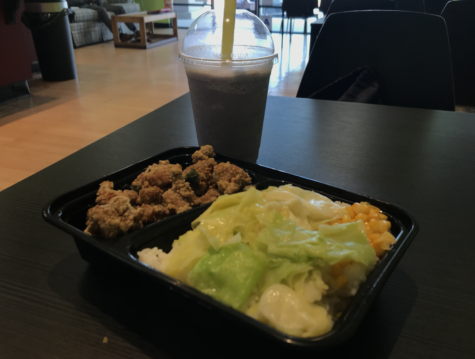 I. Student Affordability
At Tea Plus we believe the drinks were affordable, a large being almost five dollars, but the food was overpriced for the quality we received. For Joshua's order, the popcorn chicken entree and the small taro smoothie was $13.01 after tax. For Noelle's order of the fried tofu side with mild sauce, french fries, and a large almond smoothie, the price came out to $13.88 after tax.
For students that are on a budget, we don't believe that the entrees should be the go to when going to this establishment. This is because for the quality of the food, as stated, the price is not worth it. Frankly, Joshua was dissatisfied with what he paid for both the drink and entree for what he received.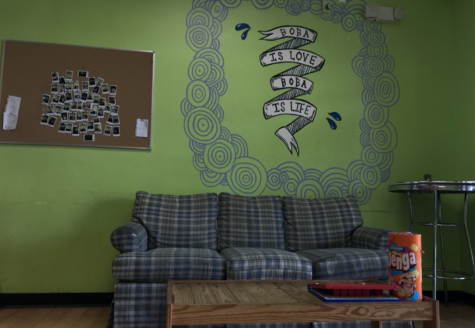 II. Proximity to ERHS
The location of Tea Plus is close to Eleanor Roosevelt High, with a drive around 4-8 minutes from school depending on traffic. Many students who travel to Albertson's for groceries may find it increasingly convenient to stop by Tea Plus for a boba or a quick bite to eat. There are other fast food places such as Carl's Jr., Starbucks, and Jack in the Box that are about equidistant from school; thus, if you are traveling this way from school, if you want boba, Tea Plus may be the place to go.
III. Food Taste, Appeal, & Presentation
Our food came in to go containers even though we were dining in. The popcorn chicken came in plastic Tupperware that had steam and water on the lid from the cooking that made the food less desirable. The popcorn chicken had too much salt in taste that was only bearable through eating more white rice. The corn was on the cold side and overall I was very dissatisfied with my meal. For the amount of time that I waited, I expected the chicken to taste better, the corn to be warm, the rice to not taste microwaved, and my taro smoothie to not taste like powder.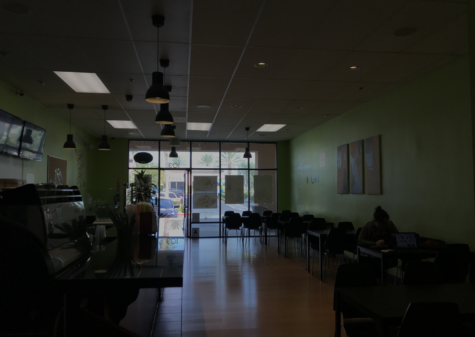 Albeit may, the quantity in the food that I was given was a portionable amount. There was enough chicken and rice to fill anyone up from hunger, but again, I was extremely dissatisfied with the taste and quality of the dish.
The fried tofu tasted as it had been soaking in salt and was barely palpable. If it wasn't for the fries and drink, my rating would be much lower. For fries, mine were pretty good, they were hot and crispy, obviously freshly fried and not too salty. Given they were garlic salt fries, they weren't too salty like the tofu was. As for the almond smoothie, it was the highlight of the meal. The drink was smoothly blended and very sweet, but not overpowering in flavor.
IV. Quality of Service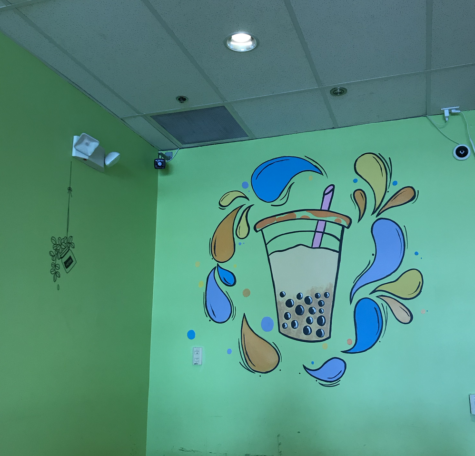 It took half of an hour for us to get our food, which is definitely not enough time if students were coming from school during lunch and hoping to get back in time. Although our food came out without ample time for eating, our drinks were made beforehand. After ordering, it took about ten minutes for our drinks to be ready, with the rest of the time spent waiting for our actual entrees to arrive. Moreover, Joshua was surprisingly disappointed with the quality of service from the staff at the time. This is because being that there were very few customers that came into Tea Plus during our time there, the staff failed to go the extra mile and provide the care that many people would expect both during busier and slower times of business. For example, when our food eventually came out, the staff did not recognize the lack of napkins and silverware until I was hungry and attempting to dig into my food. Furthermore, once we did receive our food, there was no other customers in the business, and the staff still refused to serve us our food, making Joshua walk across to grab it.
Since the business is more of a fast casual dining experience, this can be foreshadowed, however, the service could have at least attempted to please their customers that patiently waited for food.
V. Atmosphere
Tea Plus's walls have decals scattered around and a couch in the front of the establishment. Although the couch was a beautiful touch to the business, in Joshua's opinion, the couch could at least have been updated from the old one it is currently. The amenities of the business are present to please local teens however. Available for use are board games such as Jenga and free wifi for those who need to get some work done. The walls, tables, and chairs seem a bit tattered and used, and most likely need to be update, however they do serve their purposes well enough. The decals were a lovely touch, again adding the appeal to the aesthetic of many local teens because of the boba catch phrases. Alongside the main was were polaroids of many local students that enjoy their time at Tea Plus, further adding the hospitality and sense of frequent visitation that Tea Plus receives by our Eastvale youth.
Joshua's Starred Rating.

Overall, I did not enjoy my time at Tea Plus. Other than the amenities offered such as the appeal of the couch, decor, polaroids, and wifi there is not much else that improved my experience. I did not enjoy my food and the boba smoothie did not make up for it. The quality of my entire order did not make up for the lack of service and the dissatisfaction that I experienced when dealing with the staff. The only thing I truly enjoyed was parts of the decorations of the business, and with that said, this is why I rate Tea Plus a two out of five stars.
Noelle's Starred Rating.

I used to frequent Tea Plus before Ten Ren's came to Eastvale, and after becoming a regular at the more popular boba stop, I'm underwhelmed with Tea Plus's performance. I highly recommend Tea Plus for affordable drinks, but not for the food. This establishment failed to meet the taste expectation I had. The overly salted tofu was not worth the five dollars I paid for it, however the fries were decent and I would order them again. Because of these factors I am rating Tea Plus a three out of five stars.