Out on the Town: Scramblers Cafe
Out on the Town is a monthly critical food column for casual, sit down restaurants that caters to the needs of teenagers through low costs, fun environments, and good food.
This month's restaurant review for Out on the Town is Scramblers Cafe 3699 Hamner Ave C, Norco, CA 92860.
Joshua & Noelle's Rundown.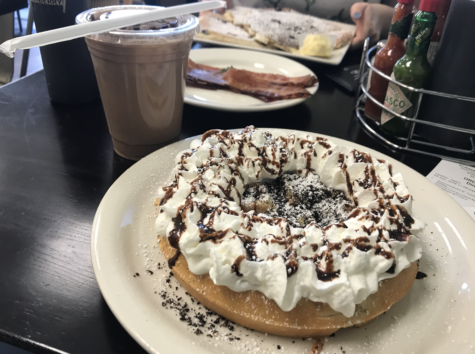 vi. Our Order
Joshua's order consisted of the Oreo Cookies N' Cream Waffle with a side of Applewood Smoked Bacon paired with an Iced Mexican Coco to drink.
Noelle's order consisted of Blueberry Ricotta Pancakes paired with a Mexican Spiced Hot Chocolate.
Brought to our table courtesy of owner of Scramblers Cafe, Natalia Siauay, was the Captain Mac'Nut French Toast (Captain Crunch & Macadamia Nut). Pro Tip: If you see a delicious meal on any of the images around the restaurant, feel free to order it by pointing at it! It's the Scramblers Cafe not so secret, secret menu! Scramblers Cafe also offers an array of lunch options and is open until 2pm everyday.
I. Student Affordability
At Scramblers Cafe we believe that the portions were massive compared to the price in which we paid. At a total of $16.87 before tax for Joshua's order of waffles at $8.59, bacon for $4.29, and $3.99, it was a ton of food that could fill up anyone. Noelle's order costed about $11 for both the blueberry ricotta pancakes at $7.50 and the coco at $3.50. The Captain Mac'Nut that was  served free of charge to us would cost you $7.50, enough to fill up anyone!
II. Proximity to ERHS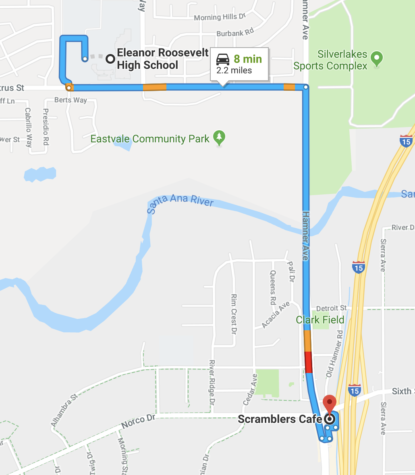 Although Scramblers Cafe is located in Norco, it is quite an easy drive for anyone before school, after school, and during lunch. However, we do not recommend going on Friday's because it does get busy and cause a time strain for a 40 minute lunch period. At 2.2 miles, equating to an about 5-8 minute drive, it is very possible for students to make it back on campus on time for class. Moreover, we highly recommend supporting this small business on Wednesday mornings for breakfast over the Jurupa Valley Denny's.
III. Food Taste, Appeal, & Presentation
The Belgian waffles topped with the Oreo cookies n' creme had enough whipped cream, sugar, and amount of sweetness to last the entire meal. I was genuinely surprised when I did not feel any urge to add syrup, butter, or anything else to my meal. Everything came out as is, and I appreciated every bite of it as is. Compared to the amount of pancakes given, I was a little disappointed in my portion size. Although the food was a lot for me to finish, compared to the three pancakes that were served for Noelle, I felt that I was skimped out on my order. The bacon came out delicious although a bit overpriced, the taste was amazing.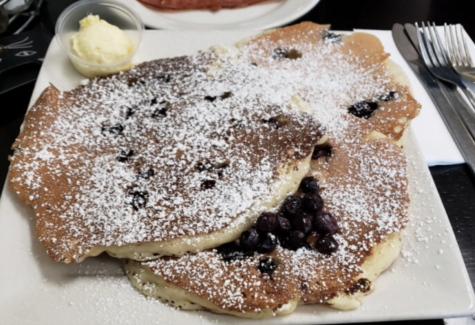 The blueberry-ricotta pancakes were served warm with the option of maple syrup, boysenberry syrup, and coconut syrup. They were delicious and not as sweet as you would imagine blueberry pancakes would be, in fact, they were balanced out well with the small pockets of ricotta cheese.
The Mexican hot chocolate was sweet with hints of cinnamon and whipped cream, served hot in a to-go cup. The iced Mexican coco had a similar taste, just iced! Although the taste was exquisite, we believed that it was subpar to our hopes of quality.
IV. Quality of Service
We were served very quickly, approximately 8 minutes which was sooner than we've experienced at our last reviewed restaurant. The servers were very nice and engaged us in polite conversation, and ensured we had everything we needed throughout our visit.
The staff was beyond helpful while ordering and with seating. The servers knew the process and how the restaurant is run, which lead to the ease of service and knowledgeability of the menu itself coming through as superb. We have no complaints about any of the staff at Scramblers Cafe!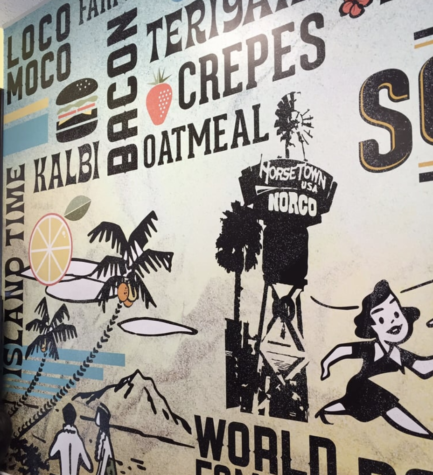 V. Atmosphere
When first entering the restaurant we notice the wall design located alongside the line to order food filled with custom made painted on art that matched the feel or Norco with the Hawaiian-style cuisine and feel of the establishment. The atmosphere does not accommodate large parties, however a small group of friends would be a great place to have breakfast or lunch.
We would recommend only taking a significant other to Scramblers Cafe only after being together a while because this establishment has messy food and a familial vibe to it; this keeps the theme lighthearted accompanying the family-owned feel.
Joshua's Starred Rating.

I absolutely enjoyed my time at Scramblers Cafe. The service and process from ordering to seating to serving is planned and executed perfectly. Every student, staff, and parent at ERHS definitely needs to learn and try the food at Scramblers Cafe. My food came out perfect just the way it was, the seasoning, sauce, and toppings did not need any additions of syrup or butter. However, the Coconut syrup was beyond superb and did enhance any meal that it accompanied. The service, food, and unique atmosphere of Scramblers Cafe leads me to give their restaurant a four and a half star rating because of the almost perfection that this establishment is attempting to achieve.
Noelle's Starred Rating.

I find myself easily giving this restaurant a four and a half star rating based on a couple of criteria points. The food is the most important aspect when we review and my order was absolutely delicious. The blueberry-ricotta pancakes were so good, I had a hard time finding any other breakfast food to compare it to. The Mexican hot chocolate was perfect and just as I expected it to be; warm, spiced, yet still sweet. The next critical aspect I look for when we review establishments is their customer service. Every staff member I met was very welcoming and personable, getting us our food very quickly and acting professional enough while maintaining a friendly exterior.