Out on the Town: Little Buddha Thai Kitchen
A student food column. We're hungry, on a budget! Our review brings you GOOD food at an even BETTER price!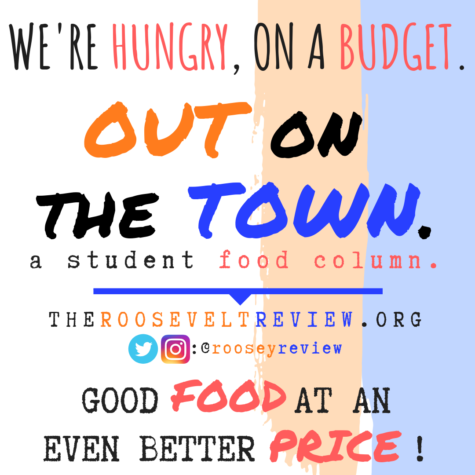 Out on the Town is a monthly critical food column for casual, sit down restaurants that caters to the needs of teenagers through low costs, fun environments, and good food.
This month's restaurant review for Out on the Town is Little Buddha Thai Kitchen located in the Vernola Marketplace at 6237 Pats Ranch Road Suite E, Mira Loma, CA.
Joshua & Noelle's Rundown.
vi. Our Order
Joshua's order consisted of a Thai iced tea (without boba) with the pad Thai with chicken. The pad Thai consists of rice noodles stir-fried with egg, green onion, bean sprouts, and peanuts in tamarind sauce and my choice of chicken.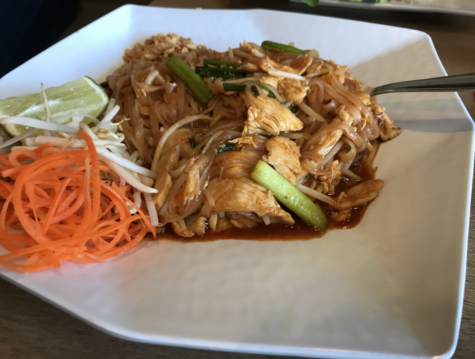 Noelle's order consisted of a Thai iced tea (without boba) with the Thai fried rice with duck ($3 extra). The Thai fried rice is rice stir-fried with onion, egg, various vegetables and a choice of meat.
Other meat options include beef, pork, tofu, or mixed veggies, or duck or shrimp ($3 extra), or seafood ($5 extra).
I. Student Affordability
The cost of the food was a decent price for the portion of food that we received. The cost for Joshua's order was $12.90 before tax. The pad Thai totaled $9.95 while the regular sized Thai iced tea was $2.95.
The cost for Noelle's order was $14.90 before tax. The Thai fried rice totaled to $11.95 and the regular sized Thai iced tea was also $2.95, not including boba (an extra $.50 if added)
II. Proximity to ERHS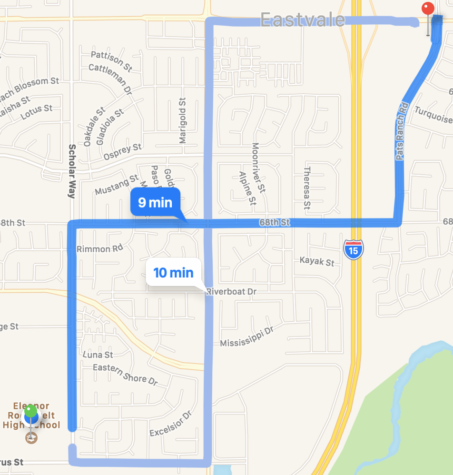 The drive to Little Buddha was a bit of a stretch from school to the restaurant and back again only a 40 minute lunch period; so, we do not recommend students to journey down to Little Buddha.

Little Buddha is also located on the opposite side of the I-15 from the Eastvale Gateway. This makes Little Buddha a nice option for a dinner date paired with a movie afterward.
III. Food Taste, Appeal, & Presentation
The presentation of the food and drinks were unique and would be seen as appealing to young adults and teens. Everything small, from our drinks to our napkins and silverware to our receipt was brought in glass mason jars which is a small, yet unique addition to the presentation.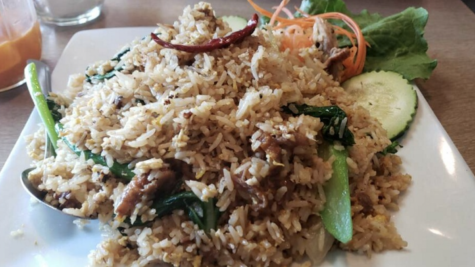 Food wise, the pad Thai came out freshly cooked with a sauce that is to die for. The flavor of the food was unique, but still tasty pad Thai, this entree is definitely something I would recommend to anyone for any occasion. For those that do not like peanuts or vegetables mixed into the noodles, the plate already comes with the garnish and peanuts separate from them.
As for the Thai fried rice with duck, it was room temperature and the duck wasn't at all warm. For the price paid, warm/hot food is expected and especially at a place that is usually held with such high regard. The portion size was large but could've easily equaled a large portion from Panda Express, for less than the Little Buddha price. For paying extra for duck, it was an extremely small amount and not at all worth the price.
The Thai tea usually comes with boba, however, the boba was not made yet according to our server which could be a downside for students that want a boba drink for lunch. However, this does mean that the boba is made fresh, so this means it is tastier.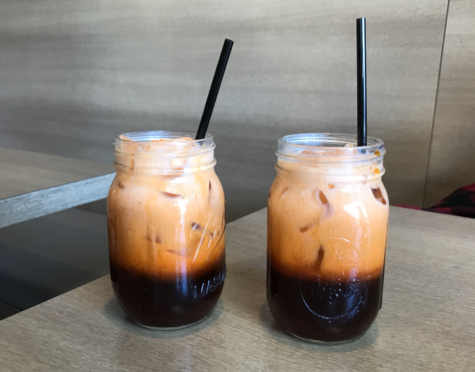 IV. Quality of Service
The service at Little Buddha gave us an apt amount of to order. However, if students are in a rush to order food for lunch the service did take almost 10 minutes to ask for our order. This, however, gives enough time for students that would like to go out for a date to eat.
The time it took from ordering our food to receiving our food took about 15 minutes, so students ordering for lunch would not get their food in time unless they ordered ahead of time. We would recommend for anyone ordering to order at 11 am when the restaurant opens to allow the maximum amount of time to get back on campus in time since the service does take awhile.
When ordering and requesting meal accommodations, we experienced a language barrier with our server. This language barrier lead to the server handling our plated food without care and having no regard in stating the food that was given, expecting us to set and decide which food goes where on the table for ourselves.
Since Little Buddha is a great place to spend time with your date, the service provider may be a downside focusing more on the quality of service (or lack thereof) and less on your significant other.
V. Atmosphere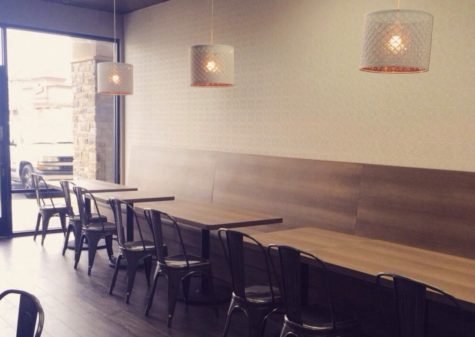 The atmosphere was a bit cramped because the restaurant is condensed into a small space, however, this did not take away from the overall interior design of the restaurant. The decor seemed to be well thought out, however, it would have been better if Little Buddha expanded their walls and increased their square footage.
The decor was simple, yet beautiful. Gray walls, wooden tables, and an overall welcoming environment is what you get when you enter Little Buddha making it an exciting establishment to eat at.
The music in the restaurant was best classified as indie and alternative. They included uncommon artists like Rainbow Kitten Surprise (not a children's band, we promise) which easily appeals to laid-back customers seeking an easy place to eat and relax such as teens and young adults.
Joshua's Starred Rating.

Do not get me wrong, the food was flavorful and overall the best Thai food that I have had to date. However, I can never get over the service that we were given at this establishment. When it comes to the each of the categories we are rating the restaurant on, I frankly believe they only excel in is the food taste, appeal, and presentation. The food itself was phenomenal, but the other categories lacked, which is why I give Little Buddha Thai Kitchen 3 out of 5 stars.
Noelle's Starred Rating.

Though Joshua made have had an excellent time with his meal, I was severely disappointed with mine. For the price I paid I was met with room temperature rice and sparse duck. The service was fine, even though the language barrier was an issue, and our food came out in a timely manner. The presentation met my expectations but I don't food for how pretty it is, and therefore can only partially consider it in my review of this establishment. I highly recommend the Thai tea, as it was the best Thai tea I have ever had and definitely worth the price. Overall I would rate this establishment three stars.