Preparing for the Next Year: eSTEM SERP Interviews
Year-long research projects are typically a thing of colleges and universities but that isn't the case for students at Eleanor Roosevelt's eSTEM Academy.
STEM stands for Science, Technology, Engineering, and Math, and suitably, eSTEM students are required to complete a year-long project known as SERP (Science Engineering Research Project). It's described as, "a cross-circular project that is a primary focus of the Eastvale STEM Academy."
After being founded in 2017, SERP has gone through various renovations. Beginning in 2022, freshmen and sophomores are receiving in-class support on the project. Leading into the 2023-2024 school year, the eSTEM staff have set-up SERP pitches.
Students are able to present their project ideas in an interview-style to staff, working professionals, and seniors who have completed the project before.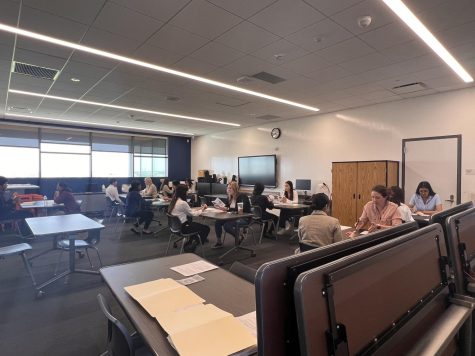 One such staff member is Rebecca Deragisch, who teaches English in the STEM program.
"We decided this year we would do intro interviews for students to propose their project ideas in the spring. Last year we just did presentations in our ELA classes and a lot of our students either didn't take it seriously or didn't do a lot of research," said Deragisch. She noted that many students from the previous year gave a pitch only to change their project later.
"We really wanted to encourage students to use the time to start the research and do some of the work in advance so they have time to prepare and do experimentation in the fall," said Deragisch.
Both current Freshmen and Sophomores pitched their project ideas with the exception of those continuing their research with their previous project.
Sophomore Ikechi Ezekwe was one of the students who proposed a new project idea. He reflects on his pitches.
"I think I'm feeling pretty good. It's giving me insight on what I need to improve [in]," said Ezekwe, whose project involves testing the memory retention of individuals as they listen to different color noises (such as brown noise).
His project and findings will be one of numerous discoveries as the next cycle of SERP begins.