"Star Wars: The Bad Batch" Season 2 Review! – SPOILER WARNING!!
This is my opinionated review on all of the episodes in Season 2 of the Star Wars animated show "The Bad Batch". SPOILERS FOR SEASON 2 INBOUND!!
S2E1 Spoils of War – 7/10. It had a lot of great moments and it was a great reintroduction to the Batch and Cid. We got to see Dooku's palace, and it set up some of the things that would be brought up in future episodes. Overall, not the best episode, but I was so happy to see the Batch again and wrote a more in-depth breakdown here.
S2E2 Ruins of War – 8/10. Better than the last episode, it was so fun to watch and we got to see a lot of Tech, Omega, and Echo. Echo and Omega got some touching moments together, and Tech got some wonderful moments with another character named Romar. Again, it set up the idea of doing more to fight the Empire.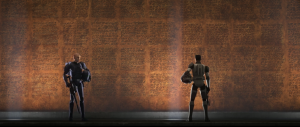 S2E3 The Solitary Clone – 10/10. Incredible episode. We got to finally see Crosshair again, and it featured the return of the beloved Commander Cody. It raised the interesting questions of loyalty and the clone uprising, and it was full of parallels and foils to other Star Wars characters and events. It showed Crosshair's isolation and questioning of the Empire (something I expanded on in this article here), which was highlighted even more when it was revealed that Cody went AWOL. Incredible episode and full of great action and moral questions!
S2E4 Faster – 10/10 episode all the way. It was a relief from the heaviness of the previous episodes, and it was purely enjoyable to watch. The riot race was so thrilling and it was amazing to see more of Tech's abilities and potential shine. It was an entertaining and funny episode, and the music was truly amazing, as per the usual. It also foreshadowed Cid as being untrustworthy, which particularly hurt later, seeing as how Tech entered the death race to save Cid and she later betrayed the Batch after his death. One of my favorite episodes of the season for sure!
S2E5 Entombed – 3/10, definitely weakest episode of the season for me. It was another fun side-quest type of episode, but it felt a little pointless. The redeeming factor for me was seeing Hunter and Echo's shared quips and the music, which was legendary as usual. Phee also got more development and Omega was adorable, but not really an episode I found myself being wowed with or wanting to rewatch.
S2E6 Tribe – 6/10. For me personally, this episode was a bit lackluster. It did feature Kashyyk and the return of Jedi Padawan Gungi, and the whole episode was rather cute. I loved Omega's team-up and friendship with him, and of course, Hunter's fatherly instinct to protect literally every single child he encounters. Echo and Wrecker's interactions with the Wookiees were awesome and it was an action packed episode, but not one of my favorites of the season by any means.
S2E7 The Clone Conspiracy + S2E8 Truth and Consequences – 10/10. Some of the best the Bad Batch has to offer, as well as the most emotional for clone fans. It saw the return of Riyo Chuchi and Bail Organa and the Imperial Senate, and it also brought up the issue of the treatment and rights of clones during and after the war. It also referenced other Star Wars storylines, and we saw the satisfying arrest of Admiral Rampart. The episodes ended with the heartbreak of Echo leaving with Rex to fight the Empire, and I wrote a more comprehensive breakdown of Echo leaving and why that was so crucial here.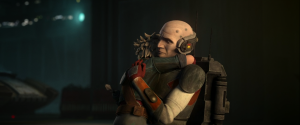 "I think my favorite episode was probably Truth and Consequences. That episode was an emotional one for sure, and I was so sad to see my favorite character leave for a little while," said artist @doodles.by.dory on Instagram. "But I loved the reality of the different priorities and beliefs. It meant so much to me to see Echo take a stand for what he believed in and what he thought was right, even if it took him down a different path than the rest of his family."
S2E9 The Crossing – 7/10. While it was not one of my top episodes, and I was a little disappointed with the lack of Crosshair (they tricked us with that episode name) it was so fun to watch. We got to see the Batch struggling without Echo, showing just how much they really missed and needed him. Omega and Tech were the stars of this episode, and I love how their emotions were worked out and how they connected. This episode showed again that Cid wasn't the most reliable, and the colors of the episode with the water cave and the ipsium were so satisfying.
S2E10 Retrieval – 5/10. One of the weaker episodes of the season in my opinion. The Batch get the Marauder back and break off ties with Cid, which is important, but the episode overall was a bit eh. It shows the kindness of Omega and refocuses on the idea that there are so many people suffering under the Empire, and there were a lot of great Hunter and Omega moments, but this episode just wasn't my favorite.
S2E11 Metamorphosis – 8/10 This was a great episode in my book. The music, frames, and lighting all contributed to a very eerie and tense episode. Seeing the Zillo beast again was a treat for fans of "The Clone Wars" and it while it felt like more of a filler, it was one of the better ones and more enjoyable to watch in my opinion.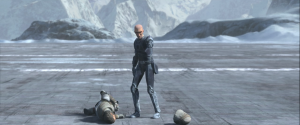 S2E12 The Outpost – 10/10. I will never stop talking about about the masterful and emotional storytelling and symbolism in this episode. I wrote a more comprehensive review here, but the short of it is that this is one of the best episodes of Star Wars television ever produced. The music and emotional pull of the characters and their stories, and the overarching tragedy of the clones really cements this episode as one of the best the franchise has to offer.
S2E13 Pabu – 7/10 This fun and relaxing episode is in such stark contrast to the one from last week. The rest of the Batch follow Phee to a peaceful beach island in the middle of nowhere called Pabu. There is danger when the sea starts to rise, but the Batch helps the people of Pabu and are invited to stay. It seems like the perfect, down-low life that the Batch needs, and was the "calm before the storm" type of episode for fans.
S2E14 Tipping Point – 10/10 episode. It hit all the emotions for me and was a joy to watch. We got to see the return of the beloved Howzer, Echo and Gregor teaming up against Imperials, Riyo Chuchi, and so much more on the clone fighting front. We get to see the Batch living their best lives on Pabu, which is in such stark contrast to Crosshair. I've always fought for the fact that Crosshair loves the Batch and is not the bad guy, and this episode cements the idea. He refuses to betray his family even faced with torture, and uses his one chance for escape to warn them that they aren't safe. Definitely a top three episode for me.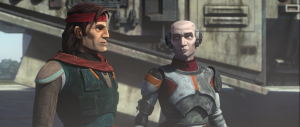 "I really liked Tipping Point because it somehow balanced three different tones pretty much flawlessly. The beginning was a Rebels-esque escape mission, the Crosshair stuff was a dark thriller prison story, and then the stuff on Pabu was like a Studio Ghibli movie. But all these separate story lines ended up fitting together perfectly like a puzzle piece and set up the finale so well," said fan @magicnerd26 on Instagram.
s2E15 The Summit – 7/10. This episode was great for a lot of reasons. It had light and funny moments between the Batch, and a lot of great moments; Tech fighting to save Crosshair, Echo being back in the squad, and Wrecker and Omega being a great team. There's also so many exciting characters in this episode. We saw Tarkin, Hemlock, and for the first time we saw an animated Orson Krennic and got a Project Stardust namedrop. We also saw Saw Gerrera, which was good and bad, as his radicalism puts into motion the next steps in the story. The music and story was cool, but overall not my favorite episode.
S2E16 Plan 99 – A rating on this one is tricky. I would probably say a 8-9/10. The finale was heartbreaking and had so many memorable and tear-jerking moments. Tech's sacrifice hit many fans hard, as did the Batch's reactions. While it was incredibly emotional and well-written, it also opened up more questions than answering them, leaving fans waiting for a Season 3.