Did Echo just…?? – "Star Wars: The Bad Batch" SPOILER WARNING!
Fans of the Star Wars animated show "The Bad Batch" were in for a wild ride in the two-part midway series mark. Spoiler warnings for "The Clone Conspiracy" and "Truth and Consequences!!!"
These episodes were spectacular, differing from the majority of the season that were deemed by fans as filler, mission-of-the-week episodes. As an avid fan of "The Bad Batch," and the characters and plots of other animated shows such as "The Clone Wars," this episode was satisfying and had a lot to offer.
There's so much I could discuss, so many moments both big and small, so many characters I could dive into. But I want to talk about the moment that is very defining for the future of the Batch, and the one character in particular that was the cause of this defining change.
Namely, Echo making the decision to leave Clone Force 99 and go with Captain Rex.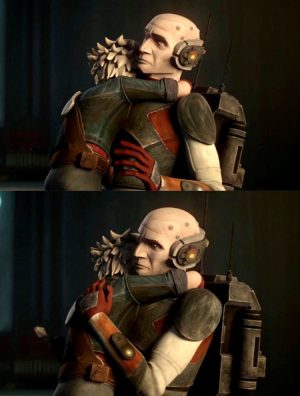 I have so many emotions about this. Echo is my favorite clone in the group, and has a connection to "The Clone Wars" that many fans love. I love his gruff personality and his quick remarks, but also his heart and how gentle he can be. His decision made me so emotional for several different reasons (yes, tears were shed if you were wondering).
Echo is the mom of the batch, the impulse control for the rowdy group, and most importantly, the moral compass. He is always the one reminding Hunter, the leader, that they should do what's right and try to help the galaxy. Without Echo, there's a chance the Batch could start taking on different missions that wouldn't help the people of the galaxy as much. Not to mention they lose the valuable skills that a fully-trained ARC trooper with a scomp link brings.
This was an especially emotional scene, more so because it parallels two other emotional scenes. Echo leaving Rex for the batch, and Crosshair's refusal to join the batch.
Echo's journey has gone full circle. Once Echo was rescued, he left Rex to join the batch on their missions. Now, he is leaving the batch to join Rex on his missions. Hunter's goodbye is especially touching, because he tells Echo to remember what he said. This is referencing his original offer to join the squad, where the leader tells Echo if he ever feels like he doesn't belong anywhere, that he can come and find them. In addition to this, the way the scenes were framed with Echo leaving the batch were composed almost exactly like the scenes with Crosshair not joining the batch. Omega is looking from the ship at both of them, and while Crosshair can't bring himself to look, Echo can't bring himself to look away.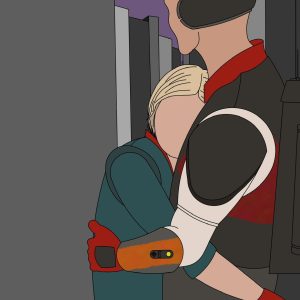 "At first I was pretty disappointed. He is my favorite member, and is reminiscent of the original clone template…" said @keelifallen on Instagram. "He cares for his family, that much is obvious. However he still feels like he has other obligations. Ever since he found out people were fighting the Empire, he felt they as a group should do more than hide. Echo has been shown to be a genuinely altruistic person, always going where he feels he's needed. That was the reason he found himself with team Clone Force 99. It seems almost poetic to have him leave for the same reason."
"I'm honestly happy for him because I personally never felt that the Batch was the right fit for him. It seemed more that he just wasn't ready to join the 501st again after everything he had been through on Skako Minor and the Batch was a safer option where he didn't have to face his grief as quickly," said @cici.2224 on Instagram. "…Echo wants to do more. He doesn't want to sacrifice the Batch but he also can't sacrifice his own need to help others. This is the best way he can do that and I'm sure being with Rex again will be great for him."
"At first, I was very sad about Echo leaving, but then again I'm thankful he's not dead and he is with Rex. I really hope this means we'll get episodes centered on Echo…" said @allfives__mm on Instagram. "I do agree with Echo's decision even though it was difficult for Omega and for fans, but I'm glad he's with Rex helping clones escape from the Empire. I think fans got so used to Echo being a part of the Bad Batch that we didn't want him to leave, but the regs were his original family so of course he wants to help."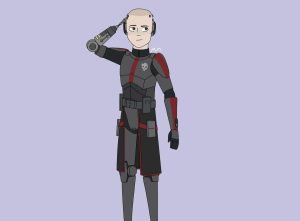 Did Echo leaving break my heart? Yes. Am I glad it happened? Also yes. It makes so much sense for his character. He wants to do what is right and has pretty much always had that moral compass and a fire for helping people. Like he told Omega, it's not forever. Hopefully we will see him again in the coming episodes.
What are your thoughts on Echo leaving the Batch? New episodes of "Star Wars : The Bad Batch" release every Wednesday on Disney+!