Is Bluey A Show For Kids
"Bluey" came out in October 2018, and it follows the adventures of Bluey Healer, a six-year-old blue healer puppy, who lives with her mom, dad, and her four-year-old sister, Bingo. Throughout the show, you can see the characters change and develop skills; thinking about others, manners, sharing, and other skills that are good to have for the world.  "Bluey" has multiple characters ranging from all different types of dog breeds, it even talks about the different dog breeds at times.
The show is a loveable show that all ages can love, although not all people agree with that. Some people say that it encourages tantrums and that the Healer family isn't so nice to the dad of Bluey and teaches kids to be unkind.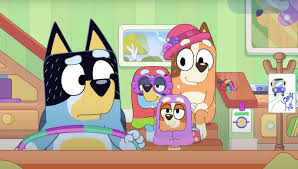 I had an interview with junior Marissa Castro from ERHS and asked her thoughts about the show.
"I enjoy the show, it shows real-life problems," Castro said. "I heard some of the episodes were scripted by some of the parents on the set, and what they had to do to entertain their kids during the pandemic. It's fun to see all of the characters change from their mistakes whether that's when they hurt their friends feelings or did something they weren't supposed to, I very much enjoy 'Bluey.'"
I also spoke to Malary Walts from Chino High School to get her perspective on the show.
"I think that 'Bluey' is a good show, I watch it when my brother watches it," Walts said. "But I don't like how some of the episodes are so blunt, like in the 'Copycat' episode, Bluey is copying her dad and they go out and later on they find a hurt bird and take it to the vet and the veterinarian just says that the bird died and I don't think that is good for a five-year-old to hear that the bird just died. I just don't think some of the episodes are appropriate for younger kids."