USWNT vs. Sweden
On April 10, the USWNT and Sweden played in an international friendly. The final score of the game ended in a tie, 1-1. Both teams fought for a full 90 minute game. However the US hasn't played any high level competition since the return from COVID and it did show during the game.
The United States tied it's first game under Vlatko Andonovski's management. This put an end to his winning streak. This also put an end to the team's 16 game winning streak. This winning streak started in January 2019 and was the third longest streak in team history. However, they still have a 38 game streak of being unbeaten.
When asked to comment, manager Andonovski said, "We came here to play good teams." He continued looking on the positive side of things, stating, " We came [to] Europe to play opponents, to some extent get exposed to different tactics, high level tactics, organized teams and to try to overcome all that."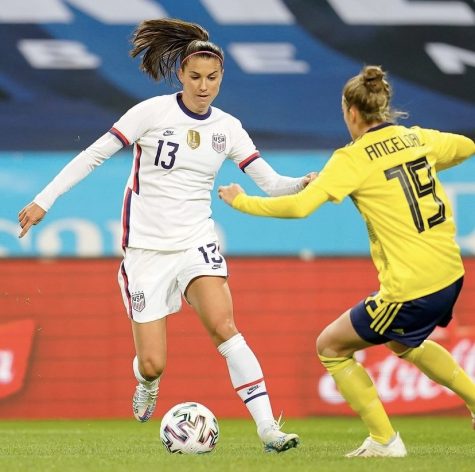 USWNT fan, Juan explained how he felt this game would be beneficial for the team regarding the upcoming Olympic games. "Up until this point, the USWNT team has been playing decent, not the best, competition. However, when they get to the Olympics it isn't going to be decent competition." He continued, "The teams are going to be really good teams and our team needs to be prepared for that. Because if they aren't , they are going to be in trouble and they aren't going to get the result they want."
Sweden scored late in the second half, during the 38th minute. It was a great goal and it exposed weaknesses fans weren't aware of on the USWNT defense. The USWNT fought hard in the second half to try and get back the goal. They had a total of 13 shots in the second half, compared to Sweden's three. They finally got their goal late in the second half, during the 87th minute. Megan Rapinoe took a penalty kick. She buried the shot low and left to tie the game.
"I think the US did well from their losing position, but it was so weird to see them there. It's been a long time since they've bene trailing in a game," USWNT fan London stated. "I think it was good for the team to be in that position, especially since a lot of these higher level teams are going to be in the Olympics alongside the US."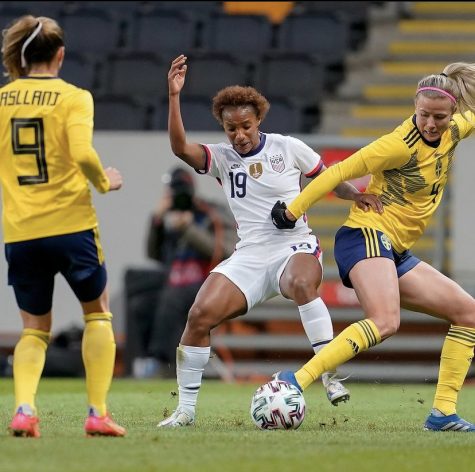 On top of the tie, there as also a celebratory moment for the USWNT. Carli Lloyd reached her 300th cap with Saturday's game. A cap is also referred to as international appearances. She is only the third person in USWNT history to achieve that goal. Kristine Lily, with 354 caps, and Christie Pearce, with 311 caps, are the only other two players to hold that achievement.
When asked to comment on the situation, Lloyd had a lot to say. She didn't think of the 300th cap as an ending point or anything of that sort. She's just been playing and that's all she wants to do. She also said there really isn't an end in sight for her right now, which means we can look forward to seeing her on the field for awhile longer.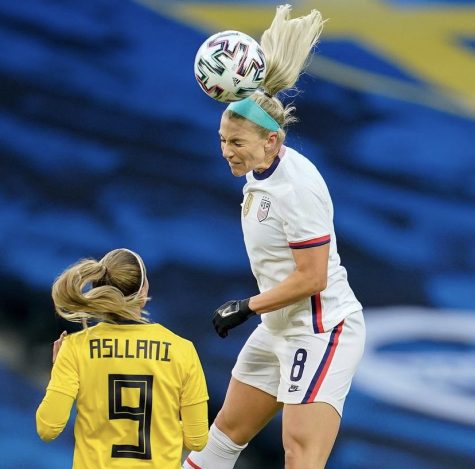 Jordan, a big Carli Lloyd fan, said, "I've been watching her since I got into soccer. I know she's been playing since before I was born, but she's always been one of my favorite players." She continued, "I think she holds herself to a high standard and that's one of the reasons she's been playing so well for so long. I look forward to what she brings to the table during the Olympic games and further into the future."
Another Carli Lloyd fan, Leilani, stated, "It was awesome to see her play in her 300th international game. I've been watching her since her first cap in 2005 and it's amazing to see how much she's grown and how much she's brought to the table over the years." She continued, "I think she holds herself and the whole team to a high standard and that's why she is one of the women others look up to. She's a fighting force and I personally wouldn't want to get in her way."