Making Savory Tofu Pancakes!
I am always looking for new recipes to try out and recently I fell in love with tofu pancakes. I got the recipe from @cafemaddy on TikTok who translated the recipe from a woman on YouTube.
The original recipe goes as follows: First blanch a medium sized tomato. Then chop up about half a block of tofu into small pieces. In a bowl mix 1/2 cup flour, 1 1/2 tablespoon corn starch, and 1 teaspoon baking powder. Add 2 eggs and season with salt, pepper, garlic, sesame oil. Mix. Now add tofu. Mix again and add your peeled chopped blanched tomato. She also added chives and jalapeno pepper. On a heated oiled pan, make little pancakes and cook about three minutes on each side. Then you can add okonomi or tonkatsu sauce, mayo, or whatever you think would taste good on top.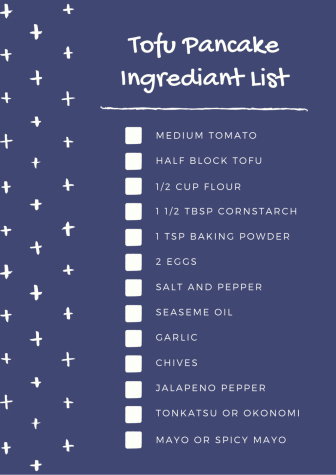 The first time I made this recipe, I followed it word for word, but the second time I realized that I had no tomato. I had to get creative. Instead of tomato, I added a third egg and a small amount of water. The third time I made it I had a bunch of left over mushroom, so I used half the amount of tofu that I normally use and made up for it with mushroom.
I really loved this recipe because unlike most tofu pancake recipes, you mince your tofu instead of blending it in a food processor. There is less clean up and it gives it a fun texture!
The cool thing about these pancakes is that they don't have much flavor on their own so there is tons of potential for additions, subtractions, and experimentation.
My favorite version that I made was for sure the one with mushrooms and tofu mixed. I love the taste of mushrooms and it made great use of food that might have gone bad.
My picky younger sister, Autumn Leber, even admits that "they were actually pretty good. They weren't life changing for me but I would eat them again." For Autumn, this is high praise. Her favorite version of the pancakes was also "the third time you made them. I don't know why exactly but it just hit different."
While talking with my dad and a family friend, Debi Kane, my dad mentioned how he was worried when I said pancake because he assumed it was going to be sweet. Debi said that, despite her reservations, she "enjoyed it! I agree with your dad that the whole idea of a pancake made me think it was gonna be sweeter but it was good none the less." She told me that she "liked the texture of it, the consistency. I liked it with the spicy mayo."
Overall, experiment with cooking! This is an easy and delicious meal with so much potential for your own cooking creativity to take over. If my picky family liked it, I'm sure you will too!
About the Contributor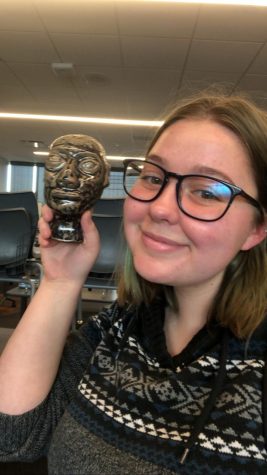 Brianne Leber, Editor and Journalist
Brianne Leber is a senior at Eleanor Roosevelt High School. She was drawn to journalism because of its ability to show different perspective to a large...