Trump Banned From Social Media Platforms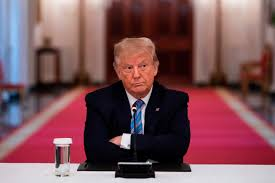 On January 6, 2021, President Donald Trump was locked out of his twitter account for 12 hours. On the 7 of January, he was suspended indefinitely from Instagram and Facebook. January 8, 2021, he was officially banned from Twitter. On January 14, Snapchat permanently disabled his account. Reddit, Pinterest, and Discord have all banned pro-trump servers and forums that have been spreading false rumors/information about the November election.
Since Joe Biden won the election in November, Trump has been tweeting about the rumored election fraud. Twitter has been putting a label on these tweets saying, "This claim about election fraud is disputed." The platform however did not limit his 88 million followers from sharing and viewing these posts.
Twitter blocked his posts in June when Trump labeled the people protesting as a result of the police killing of George Floyd as "THUGS."
On January 6, 2021, when the capital was stormed by a mob of a large number of Trump supporters, Twitter locked Trump out of his account for twelve hours. They announced they wouldn't return him access until three tweets were deleted that violated their content policy.
Two days later, following two more incendiary tweets, Twitter announced a permanent ban on his account. A Twitter spokeswoman explained that "[Twitter] applies our rules impartially for all people on our service, regardless of background or political affiliation," in an email to The Washington Post.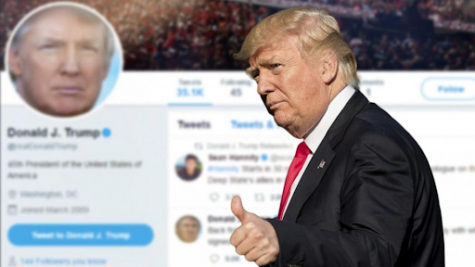 Karen Donavan said, "Trump being banned from all of these sites, makes me angry at the U.S. because they're encroaching on his rights as a citizen of the United States." However, James says "Trump was inciting violence, that's why they banned him, no more and no less."
The apps Instagram and Facebook banned Trump's accounts because he violated their terms and conditions. They gave him time to take down the posts that they stated were inciting violence. Instead of taking down the posts, Trump added two more.
The apps stated that they banned Trump's accounts because they wanted to minimize the amount of damage that he could do through his social media platforms.
Trump has been spreading pandemonium since the end of the November elections stating that they were rigged and that Biden cheated him, which is untrue.
Mark Zuckerburg, chief executive of the companies, explained that Trump intends to use his remaining time in office to undermine the lawful and peaceful transition of power to the next elected president, Joe Biden. "We believe the risks of allowing the President to continue to use our service during this period are simply too great."
Jared Thompson said, "I think Trump should have gotten banned way earlier, after what he said about the BLM protests and the George Floyd tweets." Jared was quite adamant that Trump wanted the capitol storming to happen as well, just to show the government that he has lobbyists.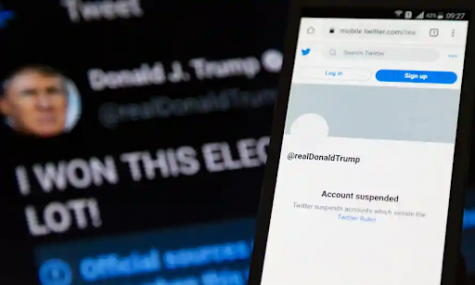 Although Trump does not have accounts with Reddit, Pinterest, or Discord, many of his supporter's accounts or servers were banned.
Discord banned a particular server on pretenses that they might've been able to organize the riot on January 6, 2021. They had no proof of these accusations, but Discord didn't want to take any chances.
Pinterest started limiting pro-Trump related topics in November. Pinterest does not want to promote violence, threats, or hateful content.
Reddit does not promote hate, glorifies, incites, encourages, or calls for violence against any group or individual. Reddit has started contacting moderators of groups to remind them of their policies. They have also started to ban groups with multiple offenses to Reddit's policy.
In the interest of public safety, Snapchat has also put an indefinite suspension on Trump's account starting January 6. Then on January 14, they permanently disabled his account. Trump's account had concerns about hate speech, threats of violence, and the spread of misinformation. This violated Snapchat's guidelines. Snapchat stopped displaying Trump's account on the Discover page shortly after the results of the 2020 election were released.
"Although not being able to have freedom of speech, on any platform including social media, is encroaching on our first amendment right; Donald Trump was promoting false information," Clarence explained. "This promotion of false information has led some people to violence and violence is never a good thing."