New Semester Aspirations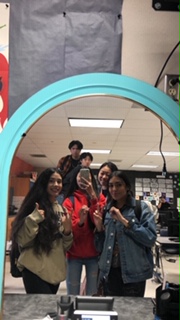 We are now in the marvelous year 2020. With the new year, it brings about a variety of change to each of our individual lives. As the new decade closes in, Roosevelt students are approaching their second semester. Although first semester was seen for many as a learning curve, aspirations to do better second semester are high.
First semester was a new beginning for many, from terrified freshman to excited seniors, we all pushed through our beginning semester of the 2019-2020 school year. Now that we've learned how to maneuver through this exciting time, we are ready for second semester.
Second semester signals both a beginning and end for students. Many students, including myself, consider second semester as a new beginning to take control of their school life and do better than last semester. Senior Hayden Palma states, "I honestly just want to do better in all aspects of my life this semester." Palma states that he took first semester as a time to figure out what he wants to further do in life. However, this semester he states, "Also I want second semester to be where I focus on having fun and not being stressed." This is the case for many seniors, as we try to make this our best year possible. Senior Jessica Pham states, "For me, personally, I focused more on college applications and I was constantly stressed out throughout first semester." However, she further states, "But this semester, I just want to make it last and have the best time I possibly can."
Along with the new year, students are facing the craziness of second semester. Students of all grade levels are setting different goals for themselves to complete by the end of the semester. Whether we follow through or not, this time of the school year bring out many changes for everyone.