Black Friday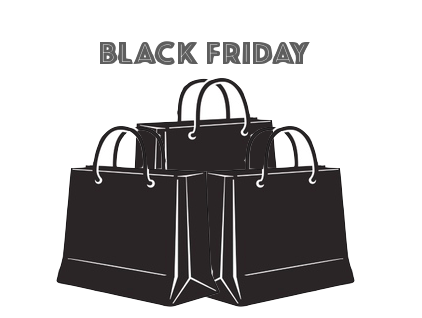 The day right after Thanksgiving-when there's leftover food scattered all about and someone asleep on the couch. But no sleep for those shopping in stores. But in recent years, Black Friday shopping has become just one click away rather than a couple of miles away. The constant struggle of waiting in lines and fighting for a product is days of the past but even then many actually enjoy the rush of the adrenaline that courses through them when they see something on sale in person.
Personally I love Black Friday since I buy online and in stores because I love a good deal. Although I have a system of doing things, for example, I buy things online like books since they're the cheapest that day and then I go to various malls and buy clothes and accessories from 8 am-12 pm because most sales end around 12 pm. Typically the same thing that was there a couple of hours earlier is still there. A huge tip I learned is that if they don't have your size in stores you can buy it online for the same discount as long as its before the cut off time.

Since it is Black Friday and some will, unfortunately, be dealing with angry customers I got the chance to speak with a couple of employees from Best Buy. Sebastian Parades was asked how he felt about Black Friday to which he responded with," Truthfully I kind of like the rush of dealing with people frantically scrambling to get what they want even if it's forcing others away." When asked with a follow-up question about what they would do if things got too violent and he said," Well I honestly don't know since usually, no one gets too aggressive but we'd probably call the police if it got too violent." I also got the chance to interview Savannah Swift an employee at Urban Outfitters at Victoria Gardens who said when asked about her opinion on Black Friday, "I kind of love Black Friday since it's like so chaotic and just overall an experience." When asked whether she could take the pressure of the crazy shoppers she said," Well, of course, I can! I think the best part is dealing with customers because they're people who know a good deal when they see it."
So will you be indulging in the rush of adrenaline running through your veins or the numbness of your fingers clicking away?