Out on the Town: Pizza Press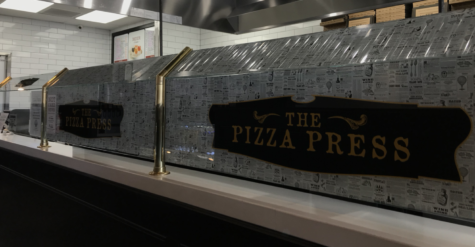 Out on the Town is a monthly critical food column for casual, sit down restaurants that cater to the needs of teenagers through low costs, fun environments, and good food.
This month's restaurant review includes Pizza Press, a create-your-own pizza place relatively new to Eastvale. Pizza Press is located in the Cloverdale Marketplace at 12768 Limonite Ave #101, Eastvale, CA 92880 in the Cloverdale Marketplace located close to Ralph's, Soccer Wearhouse and Nekter Juice Bar.
Joshua & Noelle's Rundown.
VI. Our Order
Joshua ordered the Herald Pizza without onion and extra parmesan cheese paired with a raspberry ice tea to drink. Noelle ordered a "Publish Your Own" that included spicy red sauce, mozzarella cheese, ricotta cheese, jalapeños, and pineapple chunks. Paired to drink was sweetened tea from the fountain machine  For the table, we both shared cheesy bread that came with the order.
I. Student Affordability
The Pizza Press has so many deals that allow for a cheaper buy for everyone in Eastvale, it does not just have to be for teens. This is why we so highly recommend it for not solely a date joint, but one that you and your family can come to as well.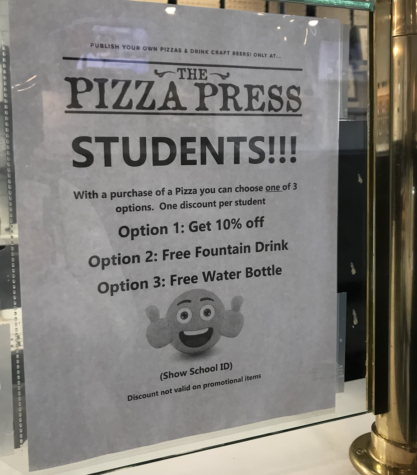 For our order, we chose to go with the family special that came with any two pizzas, whether it be pre-selected toppings, or the build your own, in addition to an appetizer of cheesy bread or a salad, accompanied with two fountain drinks. Our total because of the deal came out to $24.00 which is cheap for a main course, appetizer, and drinks for two people, which is affordable more so than other businesses for anyone eating out on a date.
If students plan to try Pizza Press to eat lunch, they also have a student special that allows students to choose from three options which helps aid the cost of going out for students. This helps when paying to go out to lunch or dinner with friends and grabbing a quick bite to eat. Additionally, this is one of the first businesses around Eastvale to cater to the needs of our student body which sets Pizza Press apart from other local businesses.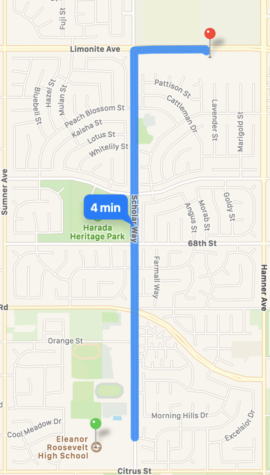 II. Proximity to ERHS
Most students that travel to Wendy's by Ralph's grocery store can easily make the drive to Pizza Press as well. On the opposing side of the same shopping center is where Pizza Press can be easily found. According to Apple Maps, the drive would only take around 5 minutes to get there! Our order was done quickly and the drive was short, meaning that students and staff can easily make it there and back in one lunch period and maybe some time to eat in the car too!
III. Food Taste, Appeal, & Presentation
Joshua's food was a bit greasy, but overall great! The pizza, including to dough, was made fresh and could be seen in front of you as you follow the employee down the line of toppings and sauces that you can choose from. The taste of chicken paired with the cheese and other condiments was a nice touch, but I did notice that the coating of grease on top of my pizza. However, to equal and rather cancel out the grease was the variety of healthy choices and options that we had available to choose from.
Noelle's food was spicy due to the jalapeños and spicy red sauce but meshed well with the sweetness of the pineapple and the savory cheese. My pizza was served on a wooden pizza board, feeling very authentic to traditional brick ovens. I was pleasantly surprised by how tasty the pizza was as some build-your-own places lack fresh ingredients and well-worked doughs.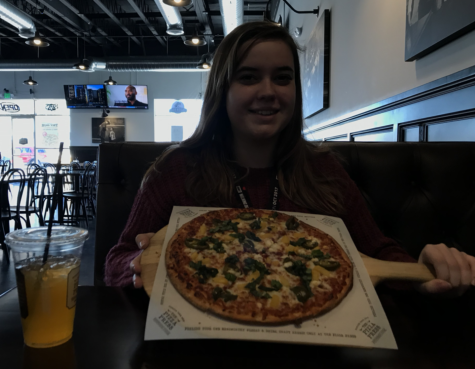 IV. Quality of Service
The service went above the protocol that we expected and especially over the recent businesses that we tried in the area. All of the staff was very friendly and made sure customers were well taken care of and their needs met to the fullest extent. The menu was explained in great detail because neither of us understood nor knew how Pizza Press did their pizzas, overall enhancing our time there. Our pizza was brought to our table along with napkins and it was overall a very pleasant experience.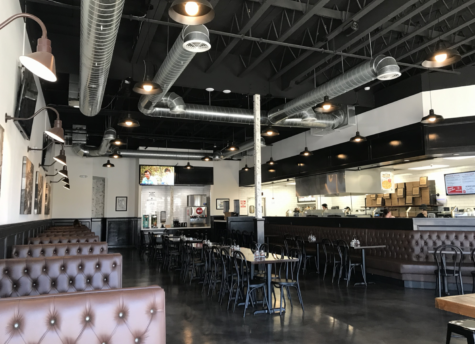 V. Atmosphere
The atmosphere throughout the entire restaurant was unbelievably amazing. Throughout the entire restaurant, it carried the theme that it boasted about. The ability for us to "Publish" our own pizza and an overall theme of newspaper and the 1920s vibe it carried throughout our dining experience enhanced it. The upper portion of the walls was covered with vintage newspaper clippings and the entire establishment was color-coordinated black and white.
Even the bathrooms had the decor throughout the entirety of it from the fixtures to the walls and flooring. You could tell that time and thought went through every detail of the restaurant itself.
Joshua's Starred Rating.

This is one of the first establishments to specifically cater pricing to students, and that really blew me away. The service and food were good, but overall what set Pizza Press apart from the other pizza joints in Eastvale, and what will have me coming back in the future is the decor and atmosphere and the pricing. Although the prices could be lower, the specials and deals that Pizza Press offers is unbeatable matched with the unique design that helps establish the feeling that you are in for an experience, not just a meal. This is why I give Pizza Press four stars, but I am left a little unsatisfied with the grease of my food, the overall experience was better than most.
Noelle's Starred Rating.

I am happy to give Pizza Press a 5-star rating. The food was delicious, the atmosphere was so welcoming I never thought a build-your-own pizza place could look so nice. I frequent the other restaurants like this often and though I love them, Pizza Press takes the cake for the individuality of its menu (themed after famous newspapers) and how friendly the staff was. I thoroughly enjoyed my pizza and even had leftovers to take back to school with me. I highly recommend this establishment for lunch during our school lunch break and on the weekends.