CNUSD: National History Day Competition
Hang on for a minute...we're trying to find some more stories you might like.
On Saturday, February 2 at Dr. Augustine Ramirez Intermediate School, the Corona-Norco Unified School District hosted their annual History Day competition with 27 of local Eastvale, Corona, and Norco schools participating.
What is NHD?
According to the National History Day website, "NHD is a year-long academic competition in which students conduct original research on historical topics of interest, based on a common theme." This year's theme of History Day is Triumph and Tragedy. Furthermore, "The program has been around since 1974 and has over a half million students participate every year. The competition starts at the school site and advances through a local/district level, country level, state level, and culminates with the National Contest at the University of Maryland at College Park."
The differing categories for project creations are elementary students in California can create a poster, while the junior and senior divisions that consist of 5th-8th graders, and 9th-12th graders respectively, having the choice to create a historical paper, documentary, website, performance, or exhibit.
National History Day at CNUSD
The Corona-Norco Unified School District competition was extremely successful, with District NHD Coordinator, Laurel Kirchhoff, who is a history teacher at Dr. Augustine Ramirez Intermediate, saying, "Today was the biggest competition in the 18 years that we have been doing History Day, with over 250 projects meaning 500 students plus, overall the competition being so well."
Although Kirchhoff did not judge at the CNUSD competition, she did get to experience the differing projects and recalled on, "I like seeing projects a little different and out of the box, it's something that I learned from projects. It's a great opportunity for students to become the teachers and delve into topics they care about."
Macie Walker, a history day champion and NHD site coordinator for ERHS who judged projects on Saturday said, "I couldn't have been more proud of our students! For most of them it was their first experience with History Day and they really impressed me with their hard work and dedication. All of our students were professional and prepared for their interviews. We have students who will be advancing to the County competition in almost every category we entered in."
Walker, however, did judge at the CNUSD competition and enjoyed the 4th/5th grade posters with, "…really young students so excited to tell us about their projects and what they had learned. I'd say my favorite this year was a girl who did her project on the Harlem Hell fighters in WWI. It's a topic I knew a little about, and her enthusiasm for the topic was infectious."
History Day Moving Forward
Kirchhoff was excited to talk about the Riverside County Competition by saying, "I love supporting our students at county and showing the other districts what Corona-Norco [Unified] is all about: rigor and excellence. At this level, it shows the students that have passion for their projects, it's not just something that their teacher told them to do. You can pick something meaningful and you can dig deep into it."
Likewise, Walker was able to highlight the beauty in the differing competitions from the district level to the county level saying, "At each level of competition, students receive feedback from the judging panel, and they have the opportunity to use that information to improve their projects. The jump in the quality and complexity of the projects from the district to the county level is usually really impressive and I'm excited to see what our students produce!"
Final Thoughts on NHD
Overall, the morals and merits were high when students, parents, and community members left the CNUSD competition on Saturday. The coordinators and judges were overly proud with the participation of students and their increasing love for History Day. Simply put by Luis Carrillo, a coordinator and teacher on special assignment for social sciences at CNUSD, is that, "The competition grew. It was organized chaos, it was awesome. It was raining, but that didn't slow them down. The kids were excited to be here, and the parents were too. It was so amazing to see."
Walker ends her interview by saying, "CNUSD has a tradition of doing very well at the county and state competitions, so I am especially excited to see how our students do in March at the Riverside County competition!"
Good luck to all of the CNUSD students competing on March 16th at Valley View High School in Moreno Valley at the Riverside County NHD Competition, and congratulations to our winners here at Roosevelt, which were: Adrian Tayag, Alline Huang, Jacob Macayaon, Makenzie Dorsey, Hennie Ayano, Britney Cheng, Joshua Dineros, Lindsay Ruiz, Dimple Garuadapuri, Tianna Calderon, Alexis Amoo, Amani Aberra, Thanvi Kiran, Tiffany Lin Lin, Sara Wu, Sophia Lu, and Daniela Terrones. Congratulations Mustangs and good luck!
About the Contributor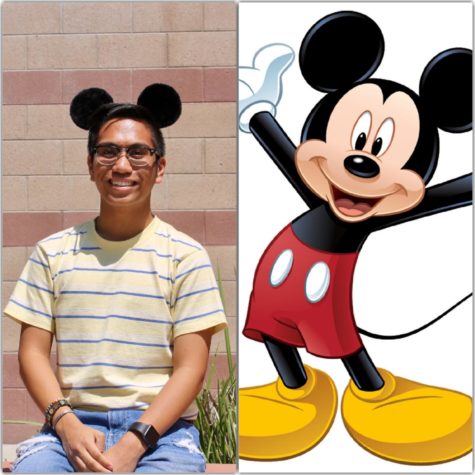 Joshua Dineros, Editor-in-chief
Joshua Dineros is currently a junior at Eleanor Roosevelt High School and writes for the student newspaper The Roosevelt Review. He is a staff writer...