Player Spotlight: Michael Sahagun
Roosevelt Boys Varsity Cross Country
Hang on for a minute...we're trying to find some more stories you might like.
Big VIII League Meet.
On Tuesday, October 30, the Roosevelt Boys Varsity XC team attended the Big VIII League's cross country championship. Runner Michael Sahagun was an All Riverside County athlete this year (Top 7 boys in Riverside County) and the ranked 3rd junior in all of Riverside County as well. Sahagun was recently awarded the 2018 Big VIII League Champion and looks to having his highest finish at the 2018 CIF Division 1 Finals on Wednesday, November 14.
Sahagun was excited about the outcome of the race and says, "I was proud that my form and figure was perfectly calm by the end of the race. Everyone was surprised that at the end of the race to see that I didn't even break a sweat. That was something that I was proud about."
During the race itself, Sahagun recalls the moment in which lead him to win first to be when, "Me and my partner were running side by side. Then something happened and I continued to pull forward. I could feel myself pushing myself to new limits and it was something new that I tried out, I felt so confident in my running abilities. I just did my own thing and I enjoyed it."
Student Athlete.
Head Cross Country Coach Joe Robles Jr. who nominated Michael Sahagun as the player spotlight believes that Sahagun should be recognized because of, "Michael is an exemplary student athlete. He maintains a 4.16 GPA and is the 2018 BIG VIII League Champion, while helping the boys team to their 4 straight BIG VIII League Title. He will be participating in the CIF Prelims and Finals over the next two weekends looking for his third straight trip to the CIF State Meet. "
Sahagun has enjoyed this year and running with his XC team and says that, "I love how much of a family we feel. Us guys hang out during and outside of school. We all try to be the best for each other and we all have a similar mindset of what we want to do and achieve as a whole for cross country."
Robles also adds that Sahagun is, "An over achiever and will do everything he feels he needs to do in order to be the best he can be for himself and his team while still taking care of business in the classroom. He has the ability to be one of the best runners in CIF this post season and the best part is that he is only a junior."
Roosevelt Cross Country.
Sahagun leaves the interview informing his fellow Mustangs of the opportunities that XC provides. Sahagun says that, "Cross country is a very dedicated sport, it depends on you being dedicated and there from morning to night and not giving up. You have to put in the effort by putting in the effort through mileage and hours spent running."
Congratulations Michael Sahagun on your recognition as player spotlight and your accomplishments on the Roosevelt Boys Varsity Cross Country team!
About the Contributor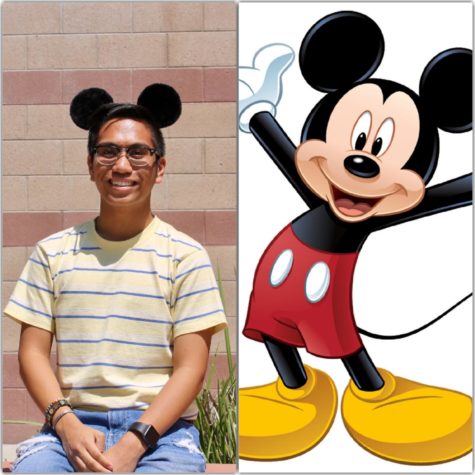 Joshua Dineros, Public Relations Manager
Joshua Dineros is currently a junior at Eleanor Roosevelt High School and writes for the student newspaper The Roosevelt Review. He is a staff writer...