Out on the Town: Pita Street
A student food column. We're hungry, on a budget! Our review brings you GOOD food at an even BETTER price!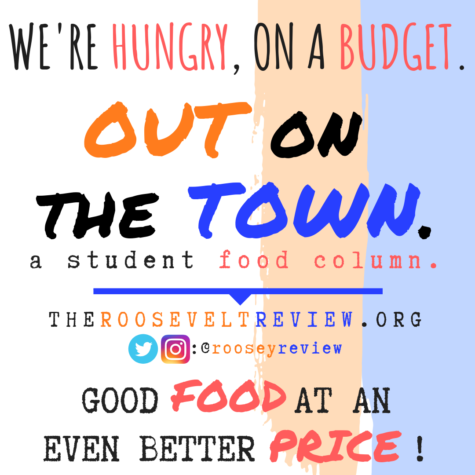 Out on the Town is a monthly critical food column for casual, sit down restaurants that caters to the needs of teenagers through low costs, fun environments, and good food.
This month's restaurant review for Out on the Town is Pita Street, a cart style Mediterranean Grill, located in the Cloverdale Marketplace at 12768 Limonite Ave #102, Eastvale, CA.
Joshua & Noelle's Rundown.
vi. Our Order
Joshua's order was the beef shawarma wrap with the Date & Rose Water drink. The wrap consisted of pita bread topped with pickles, lettuce, house tzatziki sauce, and tender thin sliced beef marinated with house herbs and spices fire grilled on a vertical rotisserie served with house salad.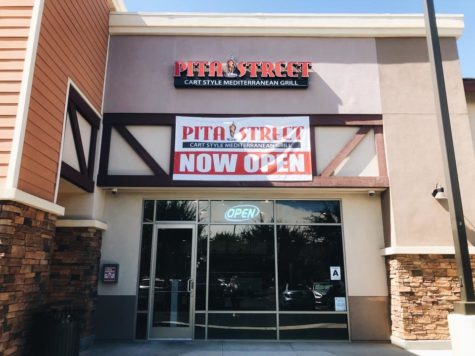 Noelle's order consisted of the veggie platter and also the Date & Rose Water drink. The veggies were grilled perfectly and consisted of squash, zucchini and green bell peppers with rice underneath, a side salad, delicious pita bread and hummus.
I. Student Affordability
Overall, the cost for our meal was reasonable for the quality that we experienced, at $8.25 the wrap was reasonable. Although, for about $2-3 more, you can upgrade to a beef shawarma plate which we recommend to be the best option because it will give you the best buy for your buck.
For vegetarian students, the veggie platter was a great purchase for only $8 with enough food to satisfy any craving.
If you are looking to grab a bite to eat with friends or a date, Pita Street would be a great place to eat at. If you plan to stop by during lunch with your off-campus pass, we would not recommend eating here because the price is expensive for a to-go meal and the wait can be time straining.
II. Proximity to ERHS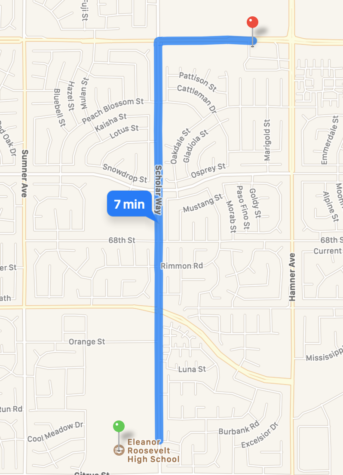 The drive to Pita Street is relatively easy from school. From Scholar Way, head south and make a right on Limonite Avenue, then the destination will on your right in the Cloverdale Marketplace next to the Pizza Press and Soccer Wearhouse.
For student lunches, Pita Street is located within the same parking lot as Wendy's, so if you are planning on grabbing food, Pita Street is about the same distance.
III. Food Taste, Appeal, & Presentation
The shawarma wrap was messy and had almost a hotdog feel with the checkered paper and tin foil it was brought out in. It's not uncommon for mediterranean wraps to be served in tin foil, as seen in a lot of fast food versions of gyros, which are greek wraps. It was difficult to eat the wrap and not as filling as the platter was. For the wrap, I would have hoped for it to be warmer, it felt like the food may have sat and cooled before it made its way to our table leaving me unsatisfied with my first bite into semi-warm beef.
The platter arrived in a black plastic takeout box with a clear lid, the salad, hummus and entree in separated sections. The rice was full of flavor, although the grilled veggies could have had more variety. The hummus and pita was beyond amazing, it had adequate seasoning which accompanied the pita well. Overall it seemed more-so take out and less restaurant presentation, but it made it easy to take and go incase you don't finish in time to get back on campus.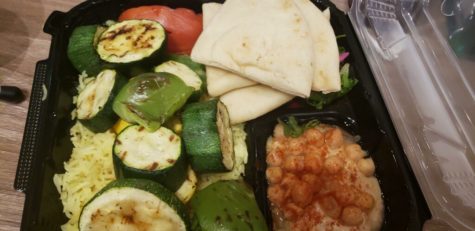 If you are planning to go out on a date with your significant other, the presentation of the food at Pita Street could be better, because if your date is more formal, this place may not be the best to dine at.
IV. Quality of Service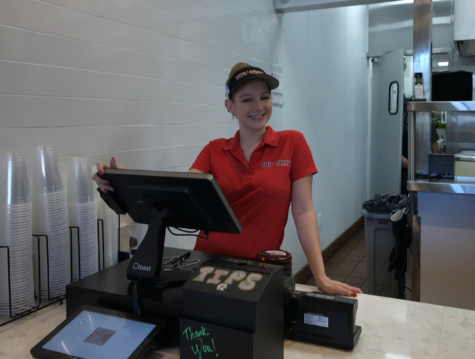 The service at Pita Street was very attentive and speedy. The employee that took our order was respectable and knowledgeable of the menu. Overall, the employee that served us seemed to enjoy her job at Pita Street which made the environment family friendly. However, the food took some time to come out which could put a strain on students wishing to purchase from Pita Street during their short lunch period.
V. Atmosphere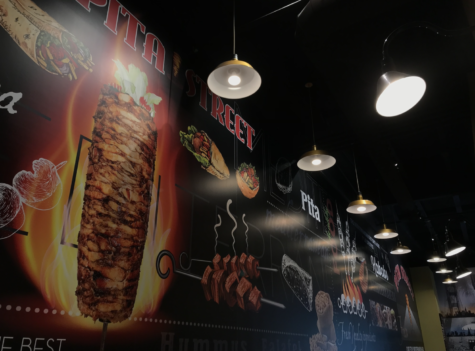 The back splash on the walls gave a very modern and homey feeling while the brighter colored paint entices a certain aura of friendliness. A student can expect to feel comfortable in the light atmosphere of the restaurant with its music, balancing between alternative rock and alternative pop. Well taken photos of the food served line the walls allowing visitors to get a visual sense of the other options on the menu.
After watching a movie at the local movie theater, Pita Street is a great place to stop by for an honest, casual dining setting.
Joshua's Starred Rating.
Personally, I enjoyed Pita Street, the atmosphere and service were superb. I hoped to have had my food to have been better (or at least warmer), there is still room for improvement!
My rating is 3.5 out of 5 stars.

Noelle's Starred Rating.
For a newer restaurant it was affordable and tasty. The atmosphere was fun and open, I just overall enjoyed my experience at Pita Street.
My rating is 4 out of 5 stars.