Fall of a Legend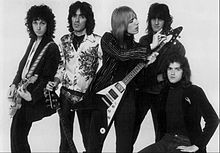 Hang on for a minute...we're trying to find some more stories you might like.
On October 2 2017, Tom Petty, rock and roll legend musician, died of cardiac arrest at his home in Malibu. Petty was the lead for his band, Tom Petty and the Heartbreakers. At first the band didn't have much success early in its career, but Petty's career in particular eventually took off in 1979. With the release of his album, Damn the Torpedoes, which reached number two on the album charts and is considered his best
works, Petty's music career skyrocketed. Afterwards, Tom Petty and the Heartbreakers continued to create more catchy and quintessential works in rock and roll.
With hits like American Girl and Free Fallin, Tom Petty's influence on the music was timeless. Having just finished a tour in America, his death at sixty-six years old was a shock to many fans, friends and family members. One fan, Brendan Leary, stated that "My dad was a huge
fan of Tom Petty. He was like, really sad that he died. His music really influenced our parent's generation and it sucks that he's gone now." Petty's music was known to bring people of all ages and races together, something that fellow fans of rock can agree with, and will continue to live on as a legend.