"Jujutsu Kaisen," a popular series written by Gege Akutami, revealed an unexpected plot twist.
Gojo Sataru's death in the recent chapter left the fans in shambles. Mangaka (manga author), Kenjiro Hata, the author of "Tonikawa" or "Fly Me to the Moon," was so traumatized that he put his manga on hiatus to recover. In addition, Akutami received death threats from fans.
According to Sportskeeda, Hata admires "Jujutsu Kaisen" and has referenced the series in his work. With the unexpected plot twist, Hata was in shock and disbelief. Eventually, he decided to put his series on hiatus until the 50th issue to recover from this.
Gojo Satoru was a beloved character among "Jujutsu Kaisen" fans. People fell in love with the character's charismatic personality mixed with his essential role in the narrative. Gojo was established at the start of the series to be one of the strongest characters within its cast, so the sudden death of the character left fans in shock. Fans made their sorrow known by sharing their grief and condolences. This eventually led to the phrase "GEGE WHEN I CATCH YOU" to trend on X (Twitter). More extremely, fans in Santiago, Chile banded together to hold a memorial service for the beloved character at a train station according to Jagran English.
Story continues below advertisement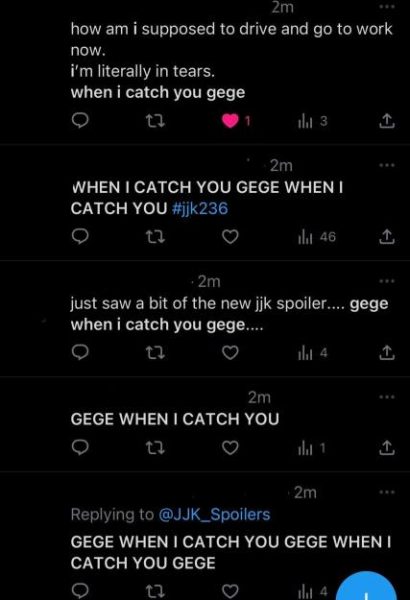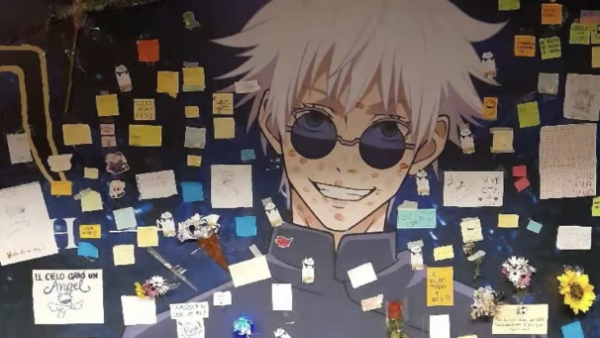 Many "Jujutsu Kaisen" fans at Eleanor Roosevelt High School shared their opinions on the subject.
A junior at ERHS, Milo Ramos shared their experience learning the news, "I was screaming when the chapter leaks were coming out and immediately shared it with my friend."
Ramos elaborates further, "I fell off my bed in despair and my friend cried, we truly thought it would be the end of JJK [Jujutsu Kaisen]."
An additional junior at ERHS and an avid member of the "Jujutsu Kaisen" community shared her sorrow, "I was heartbroken that the unthinkable had been done. I couldn't bear to see the brutal death of my favorite character."
Another junior at ERHS, Elisabeth Resendiz, commented on the hiatus Kenjiro Hata took as a result of the sudden character death, "That's very understandable, if I were a mangaka like him I would need like a year or two at least."
Ember Collado, junior at ERHS however, had a different perspective on the news, "I thought Gojo's death was both a little funny and a little tragic. I sort of had a feeling he was going to die soon anyway."