On Saturday, October 28, the beloved author, supporter of those facing addiction, and actor Matthew Perry passed away at his Los Angeles residence at the age of 54.
At approximately 4:00 in the afternoon, authorities found Perry unresponsive in the hot tub of his Los Angeles residence. His cause of death has yet to be determined as his autopsy is still underway. No foul play was involved and no drugs were found at the scene, however prescription medications were found in Perry's house. Based on toxicology tests conducted, Perry did not have fentanyl nor meth in his system when he died, ruling out a possible fentanyl or meth overdose.
Perry released his novel, "Friends, Lovers, and the Big Terrible Thing: A Memoir," on November 1, 2022, in which he opened up about his struggles with addiction and journey to sobriety. He even turned his old residence in Malibu into a sobriety home for men, aimed to help individuals remain sober and get the support and help they need on their journey to sobriety. It has been revealed in recent days that Perry was working on creating a foundation that would aid those struggling with addiction prior to his sudden death.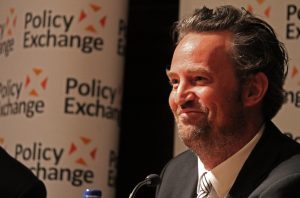 In the television universe, Perry was most known for his role as the charismatic, comical character of Chandler Bing on the sitcom "Friends" in which he starred from 1994-2004. He also starred in movies such as "17 Again," "Don't Look Up," "The Ron Clark Story," and "Fools Rush In." Perry had four Emmy nominations in his lifetime. In 1996, Perry, along with his "Friends" cast members won a SAG Award for Best Ensemble Comedy Series.
Story continues below advertisement
In recent days, "Friends" fans have been pictured outside the iconic "Friends" apartment on 90 Bedford Street in New York where exterior shots of the show were filmed. Fans have been placing flowers, handwritten notecards, images, and letters at the corner of Bedford and Grove to pay their respects to the late actor. Two days after his passing, Perry's "Friends" cast members released a joint statement in which they voiced their sadness over Perry's death and asked for people to give them the time to process and mourn Perry's death. Additional friends and fans of Perry have also commented on his passing in recent days such as John Stamos, Kate Hudson, Gwyneth Paltrow, Maggie Wheeler, Salma Hayek, Adele, and Morgan Fairchild.
"Friends" fans all over the world like Claudia Steinbach are mourning the loss of Perry.
"I feel sad," Steinbach said. "It's like the end of an era."
Devon Wilson, an ERHS junior, watches "Friends" every now and then and was shocked by Perry's passing.
"It's very sad. He died too young," Wilson said. "He was a great actor."
Matthew Perry will not only be remembered for his impressive acting career but also for his dedication to helping struggling addicts on their journey to sobriety.