Halloween is next week, meaning preparations are underway for spooky Halloween night movie marathons. That's why I decided to save people some time and create a list of my top 10 favorite Halloween movies of all time! Get some popcorn out, sit back, and enjoy!
"Halloweentown," the first film of the Halloweentown franchise, is one of my favorite Halloween movies! In this film, teenager Marnie Piper and her two siblings, Dylan and Sophie, accidentally end up in a place called Halloweentown which is full of all kinds of spooky creatures such as ghosts, warlocks, witches, and even goblins! In Halloweentown, the three siblings discover that their own grandmother is a witch and they must help her save Halloweentown from the evil warlock Kalabar who plans to conquer the human world!
This next film is entitled "Halloweentown Two: Kalabar's Revenge." I'm a big fan of the Halloweentown franchise and grew up watching the movies every Halloween. In this second installment of the franchise, an evil warlock named Kal, who is the son of the ruthless warlock Kalabar, attempts to wreak havoc on the civilians of the human world by turning them into what they dressed up as for Halloween! It's up to the Piper family to face Kal and put an end to his devious acts!
Another one of my favorite Halloween movies is"Halloweentown High," the third film in the Halloweentown franchise! In this film, half-witch, half-human teenage girl, Marnie Piper, brings a group of Halloweentown teenagers to her own school in the human world so they can experience life there! In the human world, these Halloweentown teenagers are disguised as humans to blend into the human world and not spook humans. Piper's plan to give Halloweentown teenagers a normal experience in the human world is harshly interrupted by a warlock named Edgar Dalloway who creates a scheme to close the portal between the human world and Halloweentown for good! I love this film because of its creative plot and relatability to teenagers of all generations!
Story continues below advertisement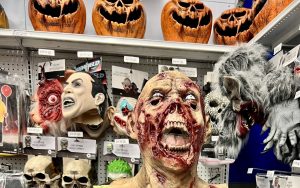 This next film is entitled "Invisible Sister." This film focuses on a shy teenager named Cleo and her far more popular older sister Molly as they navigate the complexities of high school. One day, after a project for her science class goes terribly wrong, Cleo accidentally turns her sister invisible! Cleo has a full 24 hours to make her sister appear again! I grew up watching "Girl Meets World" so I especially loved that Rowan Blanchard features as Cleo in this film! This film is perfect for Disney fans!
"Hocus Pocus Two," a readaptation of the ever-iconic Hocus Pocus movie, is another film that's on my list of the top 10 Halloween movies. Though it may be controversial to say, I personally think this adaptation is better than the original because of its modern twist and 21st-century-related comedy. This film follows the story of three teenage girls living in Salem, Massachusetts who accidentally summon the three Sanderson sisters back to Salem during the 21st century. These teenagers have until dawn on All Hallow's Eve to stop the Sanderson sisters from once again carrying out malicious acts in Salem.
One of my next favorite Halloween movies is "Tim Burton's The Nightmare Before Christmas." In this classic from the 90s, the pumpkin king of Halloweentown, Jack Skellington, starts to become bored with the repetitive routine of scaring humans living in the real world on Halloween. When Jack enters a portal that takes him to Christmastown, he becomes determined to kidnap Santa Claus and take over the holiday of Christmas. I recently watched this movie and although I didn't love it initially, I grew to love it! I especially enjoy the Halloween-themed music incorporated in this film.
This next film is "Hocus Pocus," an ever-classic Halloween movie that can be enjoyed by all ages! This film follows the journey of three witches who return to Salem, Massachusetts after accidentally being summoned by a teenage boy named Max, his sister Dani, and his crush Allison. After realizing what they've done and discovering that no one is willing to believe their story, the three realize it's up to them to stop the Salem Sisters from casting spells upon the townspeople in an effort to reclaim their youth. This film is the epitome of a wholesome Halloween movie that the whole family can watch and have a good laugh at!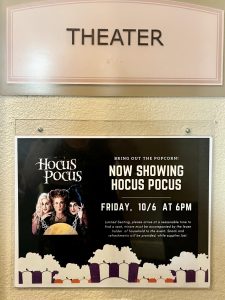 Want a blast from the past? Watch "It's the Great Pumpkin Charlie Brown." My elementary school used to play this every Halloween and I still love it now! This is more of a short film within the Charlie Brown franchise. It features Charlie Brown and his gang as they make preparations for Halloween night! When Halloween night comes, all of the friends go trick-or-treating except for Linus who decides to sit outside in a pumpkin patch and wait for the Great Pumpkin!
This next film features tall individuals with pointy teeth who sleep in coffins, that's right I'm talking about "Hotel Transylvania," a film full of vampires and other monsters! Hotel Transylvania is a glamorous resort full of ghoulish fun where monsters can live their lives to the fullest extent without the annoying presence of humans. On Dracula's daughter, Mavis' 118th birthday, he throws a big party for her at the resort which is going well until a human appears and begins to fall in love with Mavis!
Another one of my favorite Halloween movies is the 2016 adaptation of "Ghostbusters" because of its all-female cast! In this film, abnormal ghost-like behavior starts to occur in Manhattan, New York, causing four women to team up and work together to find a way to rid of the overwhelming number of ghosts in Manhattan.
Reanne Manason, a junior at ERHS, was asked what her favorite Halloween movie was and was quick to give an enthusiastic response!
"The Scream Franchise because the plot twists were never-ending!" Manason said.
Elaria Ibrahim, a recent graduate of ERHS, has different Halloween movies that are her favorite.
"'Girl vs Monster' because I was a Disney-loving kid [and also] 'the Nightmare Before Christmas,'" Ibrahim said.