Glittery outfits, memorized chants, lyrics written all over one's arm, singing along nonstop, and trading friendship bracelets. That's right, the film, 'Taylor Swift: The Eras Tour,' officially came to theaters worldwide on Friday the 13 and Swifties worldwide are once again in awe of Taylor Swift's ability to put on a showstopping performance for three hours and 15 minutes.
I had the privilege of being able to attend Swift's Eras Tour on her first night in Los Angeles! For this reason, I was ecstatic when Swift announced she would be bringing The Eras Tour to big screens worldwide. I was all the more excited because parts of the movie were filmed at my show! I was in the nosebleeds at Swift's concert so I was looking forward to seeing it from a closer perspective.
The film featured 40 of Swift's songs from all of her studio albums except for her debut album. This differs from the actual Eras Tour concert in which Swift performed 45 songs. The songs that were omitted from the film included "The Archer," "No Body No Crime," "Long Live," "Cardigan," and "Wildest Dreams." I was a bit disappointed that Swift chose to not include "The Archer" in the film because that is my all-time favorite song from Swift's album "Lover." I relate to it so much, so it was a pretty devastating loss, to say the least.
My favorite eras from the film were the "Folklore" era, the "Lover" era, and the "Fearless" era. I was surprised by how much enjoyed the "Folklore" era in the film because I'm more of a "Reputation" fan. I do enjoy the vocals of the "Folklore" album but I typically prefer music from the pop genre. The vocals that Swift utilized in the "Folklore" era of the film were undeniably stunning and the choreography couldn't have been more perfectly executed.
Story continues below advertisement
As for the "Lover" era, I loved this portion of the film so much because the outfits and visuals were so beautiful. I particularly took a liking to the sparkly pink bodysuit with purple sequins which Swift performs in while singing "Miss Americana and the Heartbreak Prince."
The "Fearless" era was such a fun era to relive by watching it on a big screen. It brought back so much nostalgia from my childhood. When I discovered Swift's "Fearless" album at age six, I became an official Swiftie! I remember having so much fun dancing around and screaming my lungs out to "You Belong With Me" in my bedroom at age six. It was so sweet to see all the Swifties in my theater dancing around and singing the lyrics of Swift's songs during this portion of the film!
My top two favorite songs Swift performed in the film were "Illicit Affairs" and "August." "Illicit Affairs" was really cool to see performed by Swift in the film because her vocals were amazing and her range truly did not disappoint. "August" was really cool to see performed in the film because it took me back to my tour date in which Swift performed "August" in August!
I was a bit disappointed that Swift did not include any behind-the-scenes clips in this film. I would've loved to see what she had to go through during the planning of The Eras Tour and what her opinion was on the concerts she put on each night.  Nevertheless, I personally think that The Eras Tour is by far the best tour Swift has gone on!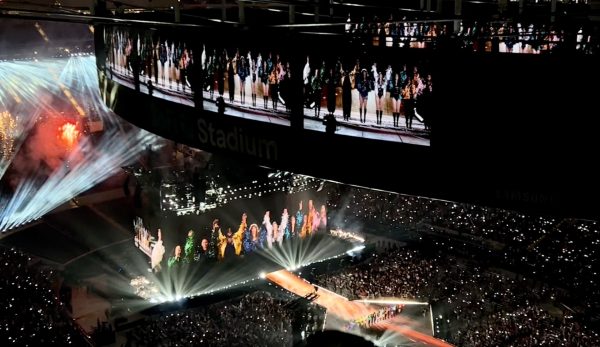 Veronica Cobian, a junior at ERHS, really enjoyed Swift's film and even purchased some fun merchandise.
"[I] loved it! I also got a cute AMC friendship bracelet," Cobian said.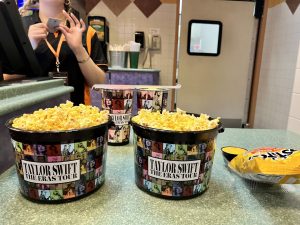 Raquel Zeledon, a junior at ERHS, had a blast with her sister while watching the Eras Tour movie.
"I loved 'Tolerate it' because it felt like it was a really good performance but both 'Lover' and 'The Last Great American Dynasty' were so cute! I loved them as well," Zeledon said. "I really wish there were more songs from 'Speak Now' in the film because I felt like they left out a lot of great songs from that album [like] 'Back to December.'"
Natalia Garcia, a junior at ERHS, attended Swift's concert and was disappointed to see that Swift omitted one song in particular from the film.
"I wish 'Long Live' would have been in the film because that technically is a love letter to her fans. Seeing her perform that in front of 70,000 people was a magical experience that I wish would have been captured," Garcia said.