Prepare to be scared like never before, as the highly anticipated movie adaptation of the iconic horror video game franchise, "Five Nights at Freddy's," is set to hit the big screen. With an avid fan base eagerly awaiting its release, this film promises to bring the spine-tingling terror and suspense of the games to life in a whole new way. In this article, we'll delve into what we know about the upcoming "Five Nights at Freddy's" movie and why it's generating so much excitement.
"Five Nights at Freddy's" (FNAF), created by Scott Cawthon, is a game series known for its unique blend of horror and strategy. Players take on the role of a night security guard at a creepy, animatronic-filled pizzeria. Their objective? Survive the night by avoiding the murderous intentions of the animatronic characters. The games have been praised for their eerie atmosphere, jump scares, and lore-rich storytelling.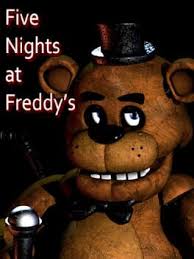 While specific plot details have been kept under wraps, fans can expect the movie to explore the sinister origins of the animatronics and the dark secrets hidden within the pizzeria. As in the games, the movie will likely build tension as the night security guard battles to survive against the relentless animatronic horrors.
Alberto Ramos, a Senior at Eleanor Roosevelt, shared his thoughts for the movie.
Story continues below advertisement
"I hope they stay faithful to the games' storyline,: Ramos said. "The story is a big part of what makes 'FNAF' so engaging."
One of the most exciting aspects of "FNAF" is its commitment to staying true to the source material. The animatronics, including the menacing Freddy Fazbear, Bonnie the Bunny, and Chica the Chicken, have been painstakingly recreated to match their in-game counterparts. This dedication to authenticity ensures that fans of the games will feel right at home in the movie's horrifying world.
"I've watched every teaser and trailer a hundred times. This movie is going to be awesome!" Said Patrick Ball a Sophomore at Eleanor Roosevelt and avid "FNAF" fan.
The "FNAF" fan community has been buzzing with excitement since the movie's announcement. Years of speculation, rumors, and teaser trailers have only fueled the anticipation further. The prospect of seeing their favorite characters come to life on the big screen, along with new revelations about the game's lore, has fans counting down the days until release.
The upcoming movie promises to be a nightmarish cinematic experience that will keep audiences on the edge of their seats. With a talented cast, a director known for his mastery of horror, and a commitment to staying true to the source material, this film has all the ingredients needed to be a thrilling and faithful adaptation of the beloved game series. Whether you're a die-hard "FNAF" fan or a newcomer to the franchise, mark your calendars for the release date, and get ready for a night of terror you won't soon forget.