Get ready to wreck your ship this October with season two of "Our Flag Means Death" (OFMD) sailing on screens once again!
"Our Flag Means Death" is a pirate rom-com series created by David Jenkins that premiered on Max in March 2022. Despite getting little to no advertising, the show was a huge hit with the fans and very quickly became one of Max's most popular TV shows. After much anticipation from fans, the series was renewed in June of 2022, and since then fans have waited eagerly for season two's official release. But the wait is (almost) over! The first three episodes of season two are set to premiere in just under a week on October 5, and two episodes will be released weekly until October 26, fans are in for a whole month of piracy!
The series follows Stede Bonnet, an aristocratic land-owner, who has a midlife crisis and decides to upend his entire life, to become a pirate. Bonnet sets sail on the "Revenge" and forms a dysfunctional crew who have to learn how to manage a life of piracy, as well as a life with each other. The show kicks off when Bonnet and the crew run into the infamous pirate Edward 'Blackbeard' Teach. The show follows Bonnet and Blackbeard as they gradually, and unexpectedly, fall in love.
Of course, it's not all that simple. The show ends on a cliffhanger that leaves fans questioning the future of Blackbeard and Bonnet's relationship.
Story continues below advertisement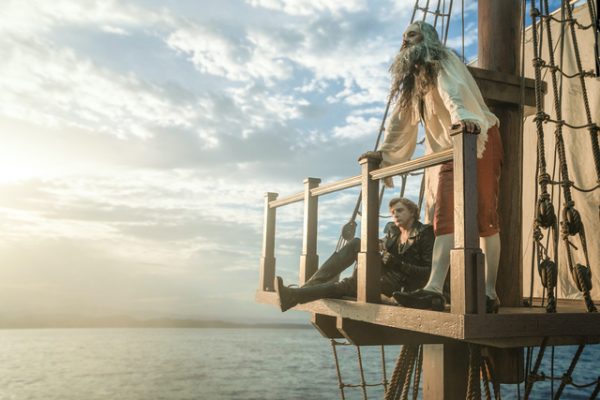 "OFMD" became special and personal to many viewers. Micha Märtin, an artist who is a fan of the show, comments on the uniqueness of the series.
"What I think makes the show special is the way it portrays queer relationships in a way that's so natural. People don't say anything about it, it's just there," Märtin said.
The show was highly praised for its heartfelt portrayal of queer relationships. Although the show hit home to all fans, queer fans were impacted the most. People felt connected to the show on a personal level. Leo Mida, who has been a fan since the series released, shares how they personally connected to the characters.
"The first season came out when I was having a very hard time with some of my relationships in my life," Mida said. "And having a character, Blackbeard, I could relate to felt so cathartic. This series helped me so much during that time."
Märtin also shares the impact the show has had on him,
"It's genuinely brought me so much joy, it made me feel so content in a way. Cause it was nice seeing these queer relationships being portrayed so naturally. And that I didn't have to worry each episode that they're just gonna kill one of the queer characters, just for killing a queer character, or to give it the extra drama effect."
The "Bury Your Gays" trope has been around for decades. This trope tends to feature a queer couple with one of the characters dying tragically, causing the other character to realize they were never gay all along. This trope is just one of many examples of how queer characters have been portrayed in media.
Even though season two of "OFMD" is expected to take a darker turn, fans are not concerned about the end-all fate of the characters. There's confidence that each individual story will get the ending it deserves.
The hype is only just starting in the last few days before the new season is released. There's still time to tune in! Season one has ten episodes, each having an average runtime of 30 minutes. Give yourself the chance to be wooed into the world of piracy, get ahold of your sea legs, and hoist your sails for October 5!