A new school year means new clubs! This year ERHS has many new clubs that are available for students to join. Joining a club is always great, but it's especially enjoyable when students are able to have fun while learning new skills that can set them up for life. Home Econ is a new club on campus that offers just that.
Home Econ is an abbreviation for home economics. This club focuses on teaching ERHS students essential life skills necessary for succeeding in life beyond school. It was primarily created for those who may not have the knowledge of the fundamental skills one must adapt in order to succeed in their future home life.
Home Econ was started this year, at ERHS it teaches the members common, necessary skills that are designed to prepare them for a life of their own. Home Econ offers its members lessons on how to cook, bake, crochet, sew, and so much more! In their last event, students did an arts and crafts activity in which they learned how to make slime! Students were also given the opportunity to decorate their slimes with beads and food coloring of their choice!
This club was founded by ERHS juniors Abby Tsai, as the president and social media manager, sophomore Kalea Alano, as the vice president, Isis Tubao, as the secretary, Leilah Villegas, as a treasurer along with Katrina Nguyen,  and Annie Chung, as the historian. Home Econ is looking to expand their officer board with one new member which they are still on the search for!
Story continues below advertisement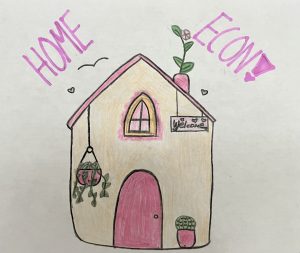 When Tsai and her friends first came up with the idea of Home Econ they weren't expecting a huge turnout in their meetings. In fact, they highly doubted that people would actually want to join their club. They figured their club would only consist of themselves and a few of their friends. After the first club rush of the 2023 school year occurred, they realized they couldn't have been more wrong. People were actually interested in their club and wanted to learn more about what Home Econ had to offer! That's when Tsai and her friends really started putting more effort into their club. As of September 28th, 2023, Home Econ consists of approximately 110 members!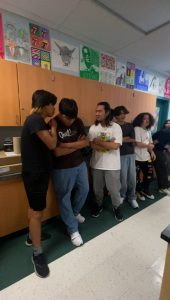 Meetings for Home Econ are held during office hours every other Friday in F102, Mrs. McFadden's classroom. Meetings will also be held in D106, Ms. Palma's classroom, however, arrangements for said meetings in D106 are still being sorted out.
All ERHS students are welcome to join Home Econ however, occasionally members will need to complete a Google form or pay an entry fee depending on what activity the club is doing that day. To hear the latest updates regarding this club, students are encouraged to check out their Instagram account as well as their Remind.
Tsai, Home Econ's president, made it a priority to make Home Econ as welcoming as possible.
"We are a very inclusive club and we try to get to know our members," Tsai said. "We ask what members would like to see happen in our club and we try our best to serve."
Club member Elizabeth Resendiz Hernandez, a junior at ERHS, had nothing but positive comments to say about Home Econ.
"I really love the club. The members are super nice and really fun to talk to. The overall mood is always fun," Hernandez said. "My favorite part would be the snacks given if you win a game."