Eleanor Roosevelt High School has almost five thousand students, with such a populous student body one would expect adequate bathrooms to accommodate all these students. Unfortunately, that is simply not the case; bathrooms are often either closed or left in a state that simply isn't usable. Without usable bathrooms, students are often left waiting in extremely long lines that often cause them to be late for class.
The state of the bathrooms at Eleanor Roosevelt High School can be attributed to a variety of factors. Firstly, many of these facilities are frequently closed for maintenance, repairs, or cleaning, making them unavailable at critical times. This lack of accessibility can lead to frustrating inconveniences for students who have limited windows of time between classes to attend to their personal needs.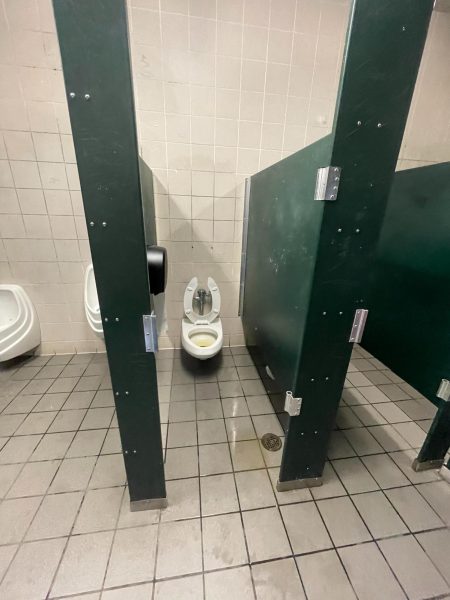 Although maintenance and repair account for some part of the bathroom closures, sometimes these restrooms are closed due to the habits of the student population. It can be extremely difficult to survey and monitor all restrooms on campus to ensure students aren't doing anything against school policies.  Although in theory this seems like a good idea to prevent instances of vandalism, vaping, drug use, or other unwanted behaviors, it has the unintended consequence of students who genuinely need to use the restroom having to wait alongside others who are using the restroom to vape or use THC carts. The lack of open restrooms also doesn't discourage students from vaping, it only makes it harder for students to use the restroom and still be on time.
Senior David Mancilla shared how he feels the situation leaves him with an ultimatum.
Story continues below advertisement
"Whenever I have to use the restroom it always feels like I'm choosing between that or being on time," Mancilla said.
Junior Alexandra Ramirez provided a different perspective.
"I don't really find that the restrooms are closed that often and I never really have a problem using the restroom getting to class on time," Ramirez said.
This highlights an interesting point for readers to note, that the women's restrooms are more often than not left open while the men's restrooms are closed.
When asked about the state of the bathrooms, Mancilla had this to say, "Most of the time the stalls' locks don't work, and some of the restrooms the doors are ripped clean off."
How should schools deal with those using the bathrooms in ways deemed inappropriate? Clearly, some time should be taken to reflect upon bathroom policies and behaviors.