There are 30 minutes left of class and you need to run to the vending machines, wash your hands, check your hair in the mirror, or whatever it is you need to do. So you raise your hand and ask your teacher to leave the class, "grab a pass," they say. But what do you grab?
For students and teachers alike hall passes are an everyday interaction. But aside from allowing us to go from place to place without a security guard chasing us across campus; why are they important? They help staff identify which classroom and building you're coming from, and why you're out.
Scott Carr, a College and Career and Spanish teacher, who uses a standard wooden pass many of us are familiar with gave his opinion on the passes. Carr remarks that they help limit kids from excessively leaving class.
"It's big so kids for the most part maybe they kind of want to use the restroom, or they don't, and then they're like 'I don't want to carry that big pass,' and then they don't. So it detours them from doing that."
Story continues below advertisement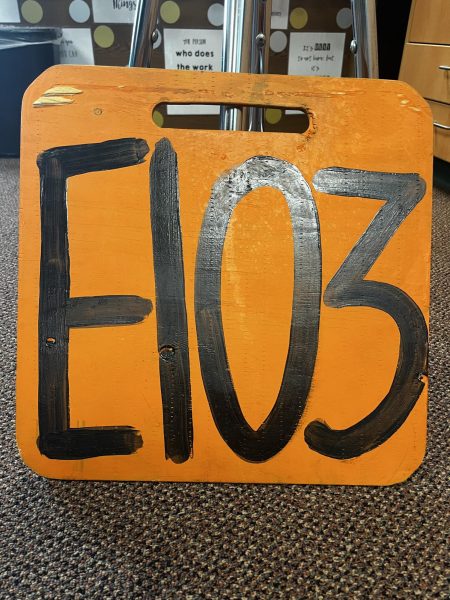 A few Roosevelt teachers, however, have taken to using strange and unconventional passes to accompany their classrooms. Ranging from objects with their face plastered on them to giant cameras hoisted around the shoulder.
Jacob Fuller, who teaches Video Production as well as TVPD, our school's video news, kept having students lose his pass. Fuller decided to take a more creative approach to his problem.
"I was frustrated about it cause it had been like the third pass that had gotten lost. And I was complaining about it in a department meeting and they were like, 'Well why don't you just use a bigger pass?'"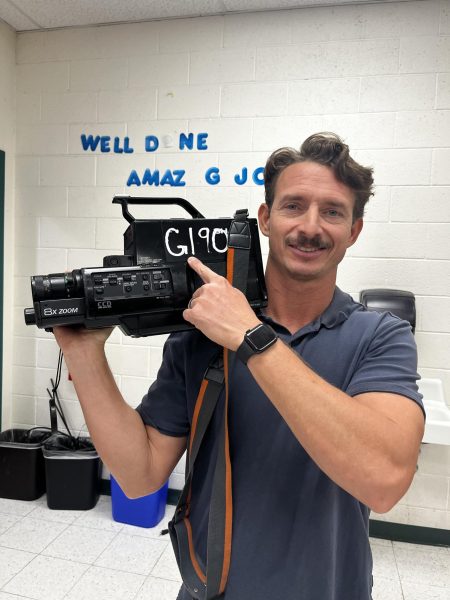 Fuller had an old VHS camera he had gotten from a garage sale and decided to paint his room number on it and use that as a pass instead.
"It'll be awesome!" he exclaims.
Fuller's pass not only represents the subjects he teaches but is also widely recognizable across campus. But he isn't the only teacher who's taken to using a creative pass.
A Roosevelt history teacher Cory Stewart printed his own face on his pass. When asked why he decided to put his own face on a bathroom pass of all things, Stewart joked,
"I want people to feel comfortable while they pee, and that's the face of comfort and calming!"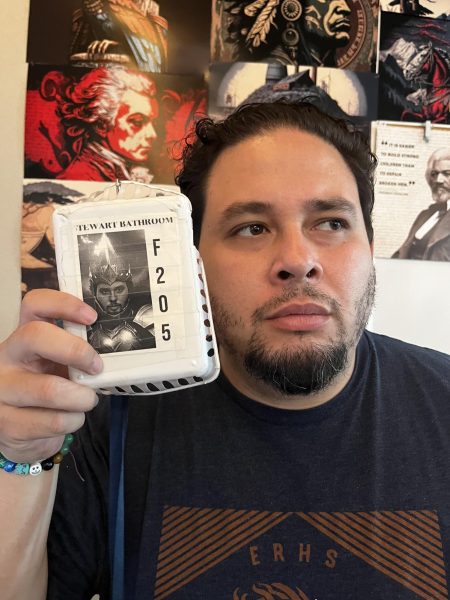 Stewart mentioned sanitization, "It's not lost on me how disgusting this thing probably is." he says, "This thing used to be a nice clear white. And as you can see, it's being…grossened."
This is a disadvantage of having a funny pass, after a while they tend to get grimy. And the knowledge that students touch it every day does tend to gross people out. But it's all in the name of fun right?
An art teacher, Conrad Maag, wanted his pass to not only represent himself, but the school as a whole. He chose two mustangs to represent Roosevelt's school mascot.
"I wanted to be easily recognizable, I like to be individualized. I'm an individualistic person! And then they're mustangs so I thought It'd be cool because it's appropriate, so that's why I chose those two."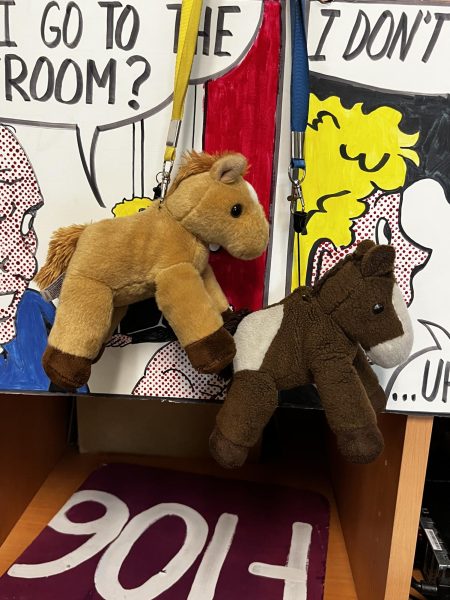 Specialized bathroom passes like these are a fun way for students and teachers to interact. It's almost like an inside joke between each class. Even though at times students can get annoyed having to lug around a huge pass; they're ultimately meant to keep us safe, doesn't mean you can't have fun with it at the same time!