Adrift in the Atlantic, a boat of death and lost dreams part 1
At around 6:30 in the morning, a few miles from Belle Garden Beach on the Caribbean island of Tobago, a narrow white and blue boat floated into the horizon on May 28 of 2021. As it wobbled left and right, fish gathered as they fed on the barnacles growing beneath the boat's surface.
From afar, it looked as though it had nobody in the boat, but as a fisherman floated past it, they smelled death. Once they looked inside they found that everyone aboard it was dead and their bodies were decomposing. There were more than a dozen black men.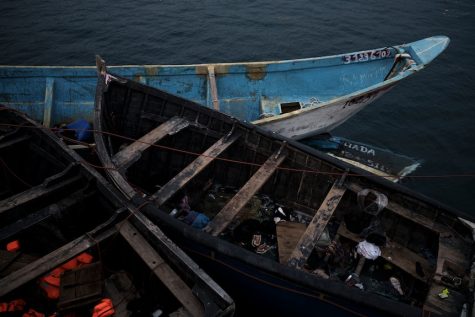 The only mystery is where it and the passengers came from. The only clues they have are what remained of the boat and its passengers. No one knew who they were, what they were doing aboard, and how or why they died. No one knew their names.
What is clear now that wasn't at the time is this: 135 days earlier 43 people were believed to have left a port city across the ocean in Africa. They were trying to reach Spain's Canary Islands, off Africa's northwest coast. They never arrived.
Instead, they ended up here, on the other side of the Atlantic. They weren't the only ones. Their families half a world away were looking for them.
For nearly two years, The Associated Press gathered and assembled pieces of the puzzle from across three continents to unveil the story of this boat and the people it carried from hope to death.
The boat that had reached Tobago had been registered in Mauritania, a large and primarily deserted in northwest Africa nearly 3,000 miles away. Evidence found on the boat – its style and color as a typical Mauritanian "pirogue"- suggested the dead were most likely African migrants trying to reach Europe but got lost in the Atlantic.
In 2021, at least seven boats appeared to be from northwest Africa washed up in the Caribbean and Brazil. All carried dead bodies.
In attempting to reach the Canaries, at least 1,109 people died or disappeared in 2021.
The Associated Press investigation included interviews with dozens of relatives and friends, officials, and forensics experts, as well as police documents and DNA testing. In light of this, It was found that 43 young men from Mauritania, Mali, Senegal, and possibly other West African nations had boarded the boat. AP has identified 33 of them by name.
They departed the Mauritanian port city of Nouadhibou in the middle of the night between Jan. 12 and Jan. 13 of 2021. Clothing and DNA testing helped identify one of the bodies, which brings closure to one family and opened a door for others to have hope.
Derryl Wingate, a world history teacher at Roosevelt says, "The fact that they were on the boat trying to go somewhere means that life was very difficult and bad for them, they were trying to escape from something. So there is a sense of sadness and anger that people in this time are still going through issues where they are feeling oppressed or feeling fearful for their life to the point where they need to get up and move. Whatever happened to them they were not able to get to a place where they can just live freely."
Many people leave their homes for Europe in the hope they arrive. While their families wonder what the fate would be for their loved ones.
This is the story of one boat and the people it carried from hope to death.