ERHS Christian Club Canned Food Drive!
The ERHS Christian Club is going to be running a school-wide canned food drive!
This canned food drive is going to take place from April 10- May 12. The canned food collected will be delivered by the club to organizations or facilities that will use the food for people in need. Cardboard boxes can be used to collect the cans, and the cans must be turned in to Mr. Wingate's classroom, F209. Club members can also collects the cans from each classroom and count them, and it will be requested that the classroom number, teacher, and amount of cans is written down and collected with the cans.
To make this event a little more exciting for students and staff who wish to participate, the third period class who collects the most cans will win a pizza party!
Be sure to listen for school announcements about the canned food drive, posters and flyers around school, and flyers or announcements from your third period teacher should they choose to participate!
"The canned food drive is an opportunity for Roosevelt High School to come together, directed by the Christian Club, to gather cans and then to be able to get those to families who are maybe struggling to provide food," said Mr. Wingate, club advisor. "We've done this before as a school, so my hope is that we can feed at least five families with the amount of cans we collect. I would love for this to be an annual thing, that the club does this every year in the springtime to provide for families going into summer."
"This is a fundraiser that we're doing for everyone on campus, and anyone that wants to, they can bring in their cans, and then we are going to donate them for people that need them," said junior Reagan McIntyre. "I just really hope that we get a really good turnout and we get enough cans. And I think it's really cool just to see how this can just be such a big community thing and everyone can come together for the same cause and help contribute to our community. I like doing this kind of stuff, and I like what goes into it, and like how we can all come together and all put in our effort, and its just a big community effort."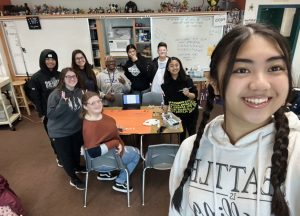 If there are any questions about the canned food drive, you can contact Izzy Casillas, the club president, two ways; at [email protected], or on the Christian Club Instagram @rooseychristianclub. You can contact club advisor Mr. Wingate at [email protected]. You can also contact club vice president Jacelyn Dilay at [email protected], or at the club Instagram as well (@rooseychristianclub).