World Baseball Classic 2023!
Home run! This year is the World Baseball Classic (or WBC for short), an international baseball tournament that features teams from all around the world.
This event is comparable to the World Cup, happening every three to four years since 2009, though the COVID pandemic put a slight pause on it in 2021. The 2023 World Baseball Classic is the fifth one since the beginning.
The final game was held on March 21 between Japan and USA.
This event has taken place in stadiums from all over the world! This year, the locations include LoanDepot Park in Miami, Florida, Tokyo Dome in Bunkyo, Tokyo, Japan, Chase Field in Arizona, and the Taichung Intercontinental Baseball Stadium.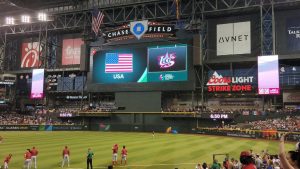 Quarterfinal 1 featured Australia and Cuba on March 15, with Cuba winning 4-3. Quarterfinal 3 was USA v Venezuela, with USA taking the win 9-7 on March 18. Semifinal 1 was the winner of both of the quarterfinals, with USA defeating Cuba 14-2 on March 19.
Quarterfinal 2 was Italy v Japan, with Japan advancing by a 9-3 score on Thursday March 16. Quarterfinals 4 on March 17 featured Puerto Rico and Mexico, with Mexico holding the victory 5-4. The two teams from the even-numbered quarterfinals went head to head in Semifinal 2. Japan defeated Mexico in a close game that ended in the score 6-5 on March 20.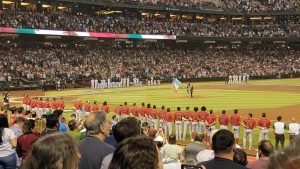 "We went to the USA vs Mexico on March 12 in the Diamondbacks Stadium in Phoenix, Arizona. The stadium was packed with tons of people rooting for both teams. My family and I cheered for both USA and Mexico because we're Mexican-American. Although the crowd made it seem more like a Mexico game," said Estella Centeno. "Towards the end of the game when it was clear Mexico was going to win, when the USA fans would leave the Mexico fans would cheer and wave goodbye at them. Outside the stadium after the game ended, there was an after party where all the [team Mexico fans] were dancing and having a good time because they were celebrating Mexico's win."
"I went for both teams because I'm both. I'm Mexican American," said Arturo Centeno. "I caught a ball before the game during batting practice from the Mexico team."
Japan and Shohei Ohtani faced off against USA and Mike Trout on Tuesday, March 21. Japan beat USA 3-2! Japan is the 2023 World Baseball Classic Champion!