ERHS FBLA Reaches the Future Minds of America
Do you know what free enterprise is? It can be a foreign concept, but that's not the case for the students at Ramirez and River Heights Intermediate. On March 9-10, members of Eleanor Roosevelt's Future Business Leaders of America's (FBLA) American Enterprise Committee presented at the middle schools, with the aim of educating students of American enterprise.
Oxford Languages describes free Enterprise as an "economic system in which private business operates in competition and largely free of state control." Every year, FBLA recognizes November 15 as American Enterprise Day. ERHS FBLA creates an annual video to educate on the importance of the day, but this year, they took it a step further by successfully launching and completing the project per the FBLA competitive event requirements for it.
This is the first time in local chapter history it has been done.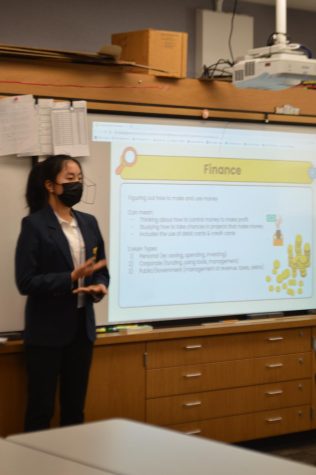 This year's American Enterprise committee consisted of FBLA members, Praneet Dumpa, Nichole Sun, Gunit Gadhoke, Alena Talreja, and Nataniel Jayaseelan. Their presentation consisted of general knowledge regarding American enterprise and included an activity for the students where they were able to create a mock business and present on it.
Freshman and committee head, Praneet Dumpa, recalls the experience.
"Mostly the presentations went really well… I felt great while presenting. It was a fairly new experience for me, but I look forward to doing it again," said Dumpa. He also notes how they faced time constraints during their first presentation, but quickly adapted as they continued throughout the days.
And while the purpose was to educate the middle school students, the committee members didn't walk away empty handed.
Gunit Gadhoke is a Freshman and committee member.
"It was a valuable experience presenting at the middle school as I learned how to manage events," said Gadhoke, who also shares his appreciation for the inclusion of his decisions in the committee.
If you are interested in learning more about ERHS FBLA or the committee, you can find them on Instagram @mustangsfbla or reach out via Remind @erfbla23