Council Member Yow Visits ERHS FBLA
On Friday, March 3, Eastvale Councilmember and former mayor, Jocelyn Yow visited Roosevelt's campus as a guest speaker for the school's Future Business Leaders of America (FBLA) chapter. She spoke on updates about the city and shared ways for our students to get involved.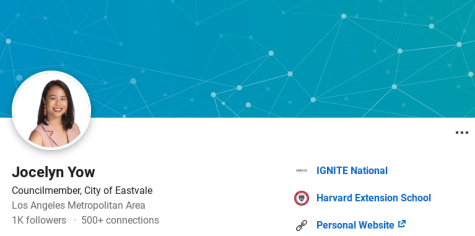 Yow has been a resident of Eastvale for over a decade. In addition to being a Councilmember, she serves as a director for a national nonprofit organization, and has served as a district representative at the state and national level. As it states in her introduction on the city website, "Yow is dedicated to a career in public service."
Along with providing students with insights and info on the city, Yow's visit also contributed to the completion of the FBLA Government Awareness Project (GAP), with the aim of fostering connections between FBLA and government officials. It emphasizes sharing the importance of FBLA.
During Yow's visit, members and officers alike had the chance to hear her speak.
Jessica Zhang, a sophomore and the chapter's Vice President of Projects oversees the completion of the GAP. After the session, she shared how she learned new things about the city.
"I am most excited about the hotel," said Zhang, in regards to the city's development.
Yow also shared information about the up-and-coming downtown Eastvale which will include Eastvale's very own police station, library, new city hall, and various other stores and businesses. During Yow's time with the city council, she secured several million dollars from private funding that will go towards the police station and library.
Sophomore Ashlynne Adeva was another attendee, and states she is looking forward to the city having its own library as it is currently being shared with the one at Roosevelt. Adeva notes they are excited to see more development in Eastvale.
To get more involved, Yow informed students that there are various opportunities for community service at city events, as well as the Eastvale City Youth Council which aims to give a voice to the youth in the community.