Winter Storm Sweeps Through SoCal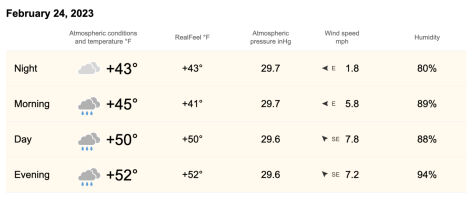 On Thursday, Feb. 23, southern California was met with hail. With the weekly forecast predicting rain and various weather advisories, it has been advised that locals stay home (to stay safe) unless leaving the house and driving is necessary.
And while this storm has made its way across the nation, millions of people in southern California alone have been put under flood watches and high wind alerts. However, places at higher elevations should expect inches or feet of snow. The National Weather Service also advises residents to prepare for potential threats such as power outages, falling trees, and an increased threat of avalanches.
Sophomore Kira Lemus recalls her account of the hail on Thursday.
"I went out there and I was holding little pieces of ice in my hand. It was pretty gloomy the whole day but that was nice compared to our normal California weather," said Lemus.
That seemed to be the consensus between multiple ERHS students with sophomore Ashlynne Adeva stating they've been enjoying the cooler weather.
"It feels like a very late winter… rainy days are always a nice change of pace from the 70 degree heat. It feels like everything slows down a bit," said Adeva, who also mentions they are excited to see the flowers and trees bloom from the rain.
This isn't the first time southern California has seen snow. In late 2019, the same areas faced similar conditions, however this time around, the weather may be very different.
The rain and snowfall seen in California is described by UCLA climate scientist, Daniel Swain to be potentially "historically significant."
Sophomore Emily Chen shares that she's never seen any weather like this.
"It was around 7 pm when the storm passed through my neighborhood. I started to hear rain… and suddenly loud pangs. I realized it was hail," said Chen.
However, despite the potential dangers, climatologist William Patzert states it may help with California's drought recovery.
"In the short term it's dangerous, but in the long term, we really needed this," said Patzert.