Fatal Shooting at Michigan State University
Content Warning: The events that took place are horrendous, and understandably may be hard for some to read. This piece includes mentions of gun violence, mass violence, death, and suicide.
Yet another shooting has taken place this year, making the count of mass gun violence reports over 70 for 2023 alone. This shooting took place at Michigan State University, and left three dead thus far, with five people were wounded.
The gunman, 43-year-old Anthony Dwayne McRae, reportedly had a list of targets, two handguns, and plenty of ammunition when police found him fleeing the campus. As police approached McRae, he shot himself and died onsite. Michigan State Police reported that McRae had a trove of items on his body and in his backpack. These include two 9 mm handguns that were not legally registered, but were legally purchased. There was also a note stating more potential targets, two schools in New Jersey's Ewing Township, around 600 miles away from MSU. Additional items include, a "loaded magazine that was full to capacity in his left breast pocket," according to Lt. Rene Gonzalez, eight loaded magazines of 9 mm ammunition, a pouch with around 50 rounds of loose 9 mm ammunition, and two bus tickets.
MSU Professor Marco Díaz-Muñoz said he believes McRae shot about 15 rounds in his classroom alone, two students in his classroom were killed and the five who were wounded were also his students.
The two-page note police found in his backpack claimed McRae was the leader of a group of 20 killers. The note listed other targets, including a church, an employment agency, a fast food restaurant, a warehouse, and a discount store.
The three students who didn't make it are Arielle Anderson (19), Brian Fraser (20), and Alexandria Verner (20).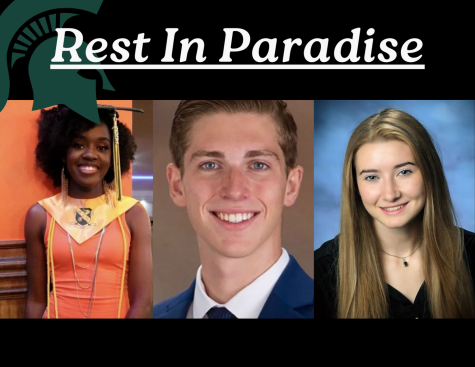 Centennial High junior, Daniella Verón states, "My sister recently moved to Michigan, and since she lives near the university, she had to stay in her home. It was terrifying, none of us knew if she would be okay, or what was really happening."
Norco High junior, Marissa Torres, explained, "I'm terrified of this, people shouldn't need to worry about their safety, especially not somewhere like a school campus."
Michigan Governer Gretchen Whitmer made a public appearance at the campus and stated, "Our campuses, churches, and classrooms should not be battlefields."
President Joe Biden and his affiliates have made no statement about the shooting as of publication.
Families of the victims have started GoFundMe's for causes such as hospital bills and funeral service costs. You can find Arielle Anderson's family GoFundMe page here, and the GoFundMe for injured Guadalupe Huapilla-Perez here. Fraser's fraternity, Phi Delta Theta chapter, have also launched a memorial scholarship in his name, which you can donate to here.
Rest in Peace to all the victims, and well wishes and prayers to the families and students affected or harmed.