New rules limiting sugar in school meals
On Friday, February 3, U.S. agriculture officials released new nutrition standards for school meals. They are first limiting added sugar in sweetened foods like cereal, yogurt, flavored milk, and breakfast pastries.
Tom Vilsack, the Agricultural Secretary who proposed this plan, also hopes that by 2029, the amount of sodium students are consuming because of the school lunch will decrease, as well as making food with whole grains. He says that the goal is to follow the U.S. dietary guidelines in a program that serves breakfast to more than 15 million children every day.
The first limit on added sugars will be required in the 2025-2026 school year starting with high-sugar foods.
With the plan in place, an 8-ounce container of milk, cannot contain more than 10 grams of sugar. Now, some flavored milk contains almost twice the amount. They will also limit sugary grain desserts to only twice a week.
The goal is, by fall of 2027, added sugars in school meals will be limited to 10% of the total calories per week for breakfast and lunch.
The proposal will also decrease the amount of sodium in school meals by 30% by the fall of 2029. They will slowly be reduced and aligned with the federal guidelines. For Americans over the age of 14, it will be limited to 2,300 milligrams per day, with less for younger children.
Levels would drop from an average of 1,280 milligrams of sodium now, to about 935 milligrams for 9-12 graders.
ERHS junior, Sania Mathew, gives her opinion about our school's lunch and how we can make it better.
"Our school lunch is okay, I like that there are different options for whatever you feel like that day. Just because it has the label 'healthier' doesn't mean it is necessarily better. I think they should have regular options and healthy options for people who want healthy food. I also believe that having sodium and sugar is a problem when consuming too much of it, but I think smaller portions of it shouldn't be a problem when you are trying to fill up your stomach."
The reality of having a healthier school lunch is more appropriate, but some students still have their opinions about how it tastes, or how it could be better.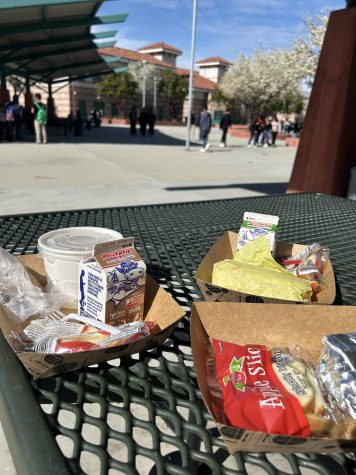 Rezain Arab, an ERHS senior, shares her opinion, "School lunch isn't the best, it doesn't taste very good. I'm sure the school lunch is fairly healthy, but I believe it lacks sugar and sodium, they do not need to take more of  it away."