ERHS speech and debate attends their first tournament
The post-pandemic world offers experiences long overdue for many; for ERHS Speech and Debate this meant attending their first in-person tournament after a year and a half of being a team.
On Jan. 21, ERHS Speech and Debate attended a tournament at Santiago High School in Corona. The team brought six members, with a few of them getting their first taste of competitive speaking. Sophomore Lindsey Young, Secretary of the club, was one of those people.
"I really enjoyed this in-person tournament. I had a good experience by knowing what I needed to work on with my speeches and being open to constructive criticism," said Young.
Young competed in an event known as Impromptu where competitors get two minutes to prepare a five minute speech. You are provided with a prompt at the beginning of your two minutes and use the remaining time to outline your speech. The prompt can range to anything, from nouns to quotes to news.
The speech should include a central idea, interpretation and examples. The examples should relate to this interpretation.
After every tournament, competitors also get their ballots back. These sheets are what the judges use in each round to rank speakers and provide them with feedback. Young notes she understands constructive criticism is only there to help her.
Despite other members having competed online before, co-captain and Junior Lauren Kim opens up on her experience at the tournament, sharing the nerves she felt at the start.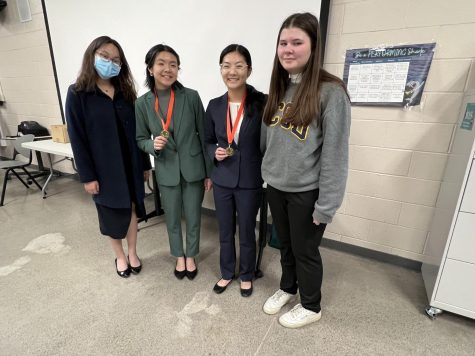 "Everyone was wearing suits and walking around with their very large team was very intimidating. However, once you got into the rounds and started speaking, I understood why I had decided to start this journey of creating a speech and debate team,"
said Kim.
She goes on to say ERHS was certainly the underdog at the tournament. However, that didn't mean they were to be underestimated.
Kim finished fourth place overall in Impromptu while co-captain and Sophomore Emily Wang finished second in Original Oratory.
If you are interested in joining ERHS Speech and Debate, you can find them on Instagram @erhs.speechanddebate or Remind @erhssd.