Biden Pays Visit to California
In light of extensive damage caused by storms raging through California, President Joe Biden is touring areas devastated by the aftermath.
After three weeks of extensive storms, California faced a number of consequences, from blackouts, landslides, flooding, and even the deaths of more than 20 people. Reuters reports nearly 150,000 people were under evacuation orders at the height of the storm.
On Jan. 14, Biden declared that the rain was a major disaster in the state. This supplements recovery services to areas affected by the storms, and extends Federal funding to those affected in the counties of Merced, Sacramento, and Santa Cruz.
As Biden toured the beach town of Capitola, right as his second year in presidency rolls around, he was led around by business owners, giving him a first-hand look at the damage the storms caused. AP News on Jan. 20 reports on Biden's tour and the thoughts he expressed as he surveyed the damage.
"You don't feel it until you walk the streets," Biden said, referring to the damage and stating that our climate is indeed changing
A climate reporter for the New York Times, Raymond Zhong wrote on the comparison between these storms and others that have been historically wild.
"A statewide, averaged measure like this one doesn't capture the vastly different effects that storms in California…can have in different parts of the state," Zhong wrote.
Here, the inland empire did not see the same level of damage to communities as other regions did, however there was still disruption in day-to-day rhythm.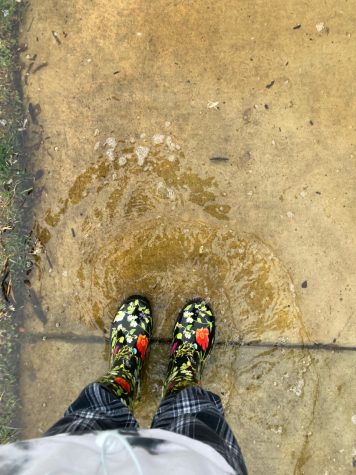 Roosevelt junior Melissa Moreno shared that they weren't able to go on runs or drive to the gym because it would've been a safety hazard driving in harsh rain.
Sophomore Kira Lemus also expressed that it kept them from leaving the house at all.
And freshman Charlie Eikleberry, who describes what he saw on an outing to get the mail.
"It flooded outside my house," Eikleberry said. He described water pooling with the downward shape of the sidewalk and how he went back to put on rain boots before continuing about his day.
When Biden was in Aptos, he made a statement further showing his continued support for the state of California.
"The federal government is not leaving its responsibility till it's all fixed, it's done," Biden said.