K-Pop Girl Group LOONA Disbandment & Lawsuit
LOONA fans (also known as ORBITS) all over the world were shocked to see BlockBerry Creative's formal statement about the removal of popular member, Chuu (Kim Ji-woo) on November 25, 2022. BBC stated that Chuu was verbally abusive to staff, and 'abuses her power'. Earlier that year, Chuu allegedly sued BBC to get out of her tight contract, fans speculate this tension lead to BBC expelling Chuu and creating a fake reason for her removal.
On November 28 it was reported that nine of the (now) 11 LOONA members filed injunctions to suspend their contracts and leave the company, however, BBC has denied this statement. Another member of LOONA, Im Yeojin, recently revealed that she hasn't been paid a penny since LOONA's debut (2016). As of this Friday, members Heejin, Kim Lip, Jinsoul, and Choerry won their lawsuits against BBC and have suspended their contracts, whereas Haseul, Yves, Olivia Hye, and Gowon have lost their cases. Haseul revealed that she expects a long fight with BBC to happen, and confirmed the girls have not been receiving their paychecks regardless of BBC saying these claims were false. Yeojin hinted to fans that her, Yves, Haseul, Olivia Hye, and Gowon will be pursuing their cases further.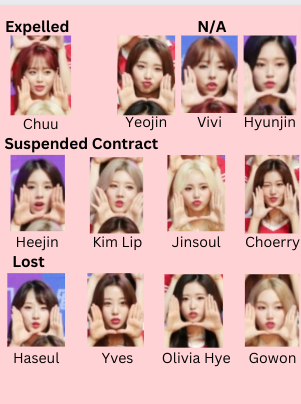 This isn't the first instance of BBC being under-fire and having lawsuits against the company. In February of 2020, BBC, and their parent company Polaris Entertainment, were ordered by Seoul's central distract court to pay back a foreign investor company for violation of their investment contract.
Many LOONA fans are boycotting the group and BBC. Specifically through refusing to stream and cancelling album pre-orders, pre-orders for LOONA's new album compared to older albums have dropped 98%.
Desert Rose Academy junior Emira Ibrahim, who has been an ORBIT since 2017, states "BBC is a horrible company, this really isn't news. I hope the girls come back as a new group with a new company."
Santiago freshman Vivian Nguyen states, "I cancelled my album pre-order already, and I'll probably stream on a third party website. I hope all the other members are able to leave the company, or at least win their lawsuits. The idol industry is horrible so this isn't surprising, but I can't believe BBC is still allowed to be a company."
As of publication, only members Vivi and Hyunjin haven't filed for contract suspension, neither have they applied to sue BBC or Polaris Entertainment.