FIFA World Cup 2022!
GOALLLLLLL! This year, the global phenomenon known as the World Cup is happening right now!
It is officially titled as the FIFA World Cup Quatar 2022. These football events– or soccer, depending on where you are from– are held every four years. This event started on November 20 and is going all the way until December 18. This is the 22nd FIFA World Cup to be held. There are a total of 32 teams participating, from five different confederations. This football event is being held at 8 different venues with five cities hosting.
The first seven days of the 2022 World Cup alone had a viewership of 57 million people across streaming platforms such as Telemundo and Peacock streaming platforms. This number is up 24% compared to the amount of viewers from the last World Cup in Russia, which was held in 2018.
Every World Cup is special in its own way, but the 2022 event is unique in the fact that this event is the first one to not be held in the summer, when it normally has. This year it is being held in the fall, as summers in Qatar see extreme heat that can be unsafe to play in.
Bringing it a little closer to home, there is exciting news! The United States team has made it on to the next round, beating Iran 1-0 to secure a spot after England's team. USA is in Group B in Groups A-H.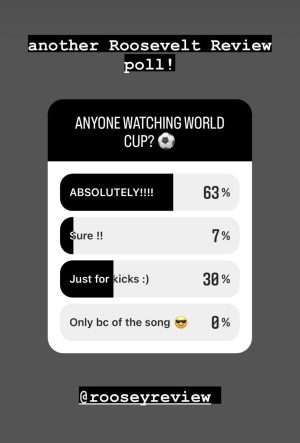 Our Mustangs are pretty excited for the World Cup!
"My favorite way to watch it is with all my family. My aunts, uncles and grandparents, we all get together to watch the games," said Faith Gonzalez, a senior at ERHS. "I get excited for the France games because my mom goes crazy every time it's on. That's her favorite team."
"Favorite way to watch World Cup is in class instead of doing work," said ERHS senior Andrew Bowser.
"My favorite way to watch is with my dad, since him and I are the most interested in the game out of my whole family," said ERHS senior Sarah Salas. "I'm looking forward to the Argentina Australia game, also Netherlands vs USA."
Be sure to keep up with the exhilirating FIFA World Cup 2022!