Ash Ketchum Becomes a World Champion
On November 11, Ash Ketchum finally became a Pokémon master. In the recently aired episode of "Pokémon Ultimate Journeys" that aired in Japan, Ash had finally become a Pokémon Master after a battle with Sword and Shield's Leon. Ash's team had consisted of well-known and fan favorite Pikachu, Dragonite, Gengar, Lucario, Sirfetch'd, and Dracovish. A whole 25 years since he had first wanted to be a Pokémon Master back in the 1997 anime "Pokémon: Indigo Leauge."
Some local ERHS students that grew up watching "Pokémon" shared how they feel now knowing that Ash Ketchum, 25 years later, has become a Pokémon Master.
ERHS Sophmore, Eli Hammond responded with, "Personally for me it was to be expected for, at least something around that. Ash is a main character, and the show has been around for a very long time. I haven't watched the show recently, but I have a hunch it was amazingly produced."
ERHS Freshman, Nami Hsieh had also said, "I cried very hard and I hope the next series after it is gonna be good or I'm gonna be upset, and I'm still upset it ended before One Piece."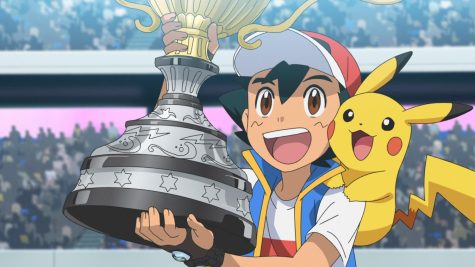 Lot's of fans on social media were happy for Ash finally becoming a Pokémon Master and are hoping that if there's another series, that maybe that new main character can battle Ash.
From Pallet Town to becoming a world champion, Ash Ketchum has showed his perseverance and strength throughout his over two decades journey, to be the best like no one ever was. The Pokémon Company has not yet announced what their next steps and plans are for the beloved franchise. We can only hope that the franchise will continue to grow and maybe gift the world of Pokémon to another generation.